Home Page › Blog › Can I Take a Service Dog On an Airplane
Can I Take a Service Dog On an Airplane
If you have ever wondered if you can take a service dog on an airplane, the answer is Yes. Unlike a pet rabbit or an emotional support cat, federal laws apply to service dogs while traveling. These laws protect service dog handlers because service dogs are trained to provide an essential service for someone with a disability. Whether it's a mobility service dog, a psychiatric service dog, or an allergy detection service dog, all service dogs may fly with their handler.
A Service Dog is Not a Pet
All dogs give their owners a warm, fuzzy feeling because dogs are adorable animals — their presence makes life a little brighter. A service dog, however, offers much more than a wagging tail and a face full of kisses. Service dogs receive extensive training to perform one or more tasks, making life easier and safer for their handlers.
They offer their handlers a chance to experience life in ways that would otherwise be difficult — or even impossible — because of a disability. So, although a service dog may look like a pet, they are definitely not. Therefore, federal laws require airlines to recognize service animals as a part of the passenger's life.
As service dogs are not pets, pet fees and most pet restrictions don't apply to service dogs when traveling on an airplane.

Service Dog Certifications

Service Dogs vs Emotional Support Animal
The federal laws that apply to service dogs on an airplane are the Americans with Disabilities Act (ADA) and the Air Carrier Access Act (ACAA). The ACAA explicitly protects people with special needs or disabilities when traveling. Under the ACAA, airlines must recognize service dogs on flights to, from, and throughout the U.S. Only service dogs apply to the law — other animal species performing a service for someone with a disability may fly if the airline chooses to allow it.
Unfortunately, emotional support animals (ESA) do not fall under the ACAA. Unless an airline makes an exception, they are not obligated by federal law to transport the ESA. If an airline offers an ESA exception, they may ask for an ESA letter to verify an animal's status.
Flying with a Service Dog
To verify your service dog, the airline can't ask about the nature of a handler's disability, they may inquire whether the dog is necessary because of a disability and if the dog was task-trained to assist the disability. In essence, the two questions you want to be prepared to answer may sound like this:
Do you have a mental health disability?
Has your dog been trained to perform tasks relating to that disability?
Any questions regarding the details of the disability or requests for a demonstration of the trained tasks are not allowed and are considered a breach of your privacy.
Airlines may request the following documents and may refuse a service animal if the forms are incomplete:
Airlines may only request additional documentation to comply with transportation requirements for a foreign jurisdiction, a U.S. territory, or other federal agencies. An airline can't refuse a service dog because other customers feel uncomfortable, but they can deny it because it's disruptive.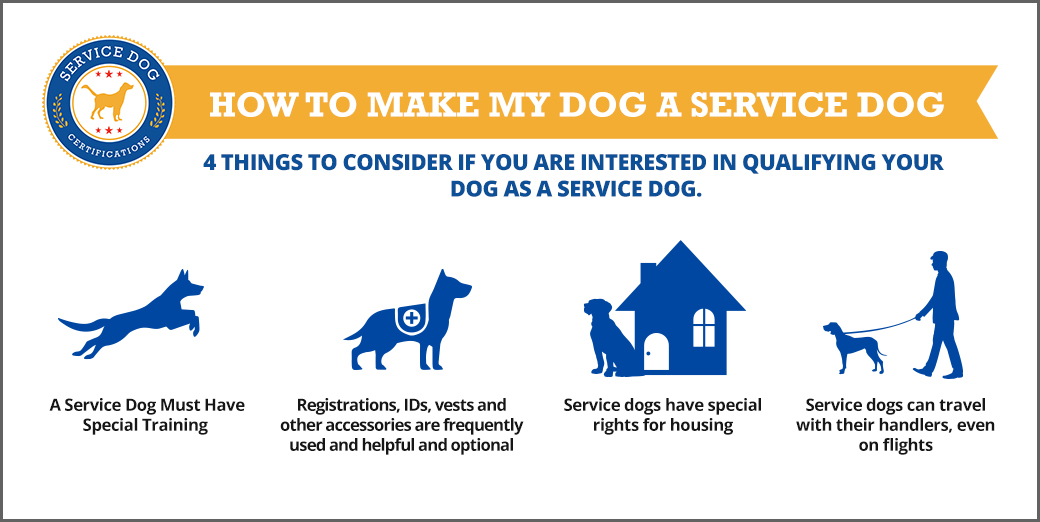 When Can an Airline Refuse a Service Dog?
Airlines can refuse the most well-behaved service dog if the required federal documents aren't completed before boarding. To ensure that the correct records are completed, fill them out correctly before traveling and make copies to have on hand.
The following are other factors to keep in mind while traveling with your service dog:
For safety reasons, service dogs must not block the aisle or emergency exit.
A service dog may safely sit on their owner's lap if they're small enough.
An airline may refuse a service dog if it doesn't meet the criteria for safety, like if the service dog is too large or heavy for the cabin.
An airline may refuse a service dog if it is a disruption or a direct threat to others.
Traveling Outside the U.S. With a Service Dog
Whether for business or pleasure, people with service dogs may find themselves traveling outside of the U.S. If so, the service dog handler must comply with the destination country's health regulations. Failure to meet the country's laws may result in a refusal from the airline.
Tips on Flying With Your Service Dog
Take your service dog for a run before boarding the plane. Allowing your service dog to stretch their legs and relapse their energy can make flying less stressful for you and your service animal.
Find the nearest relief station before boarding. Airports in the U.S have relief stations for pets. Some relief stations are small and simple; others are elaborate and artful — they all get the job done. Before flying, offer your dog time at a relief station, especially if the flight is long.
Have an emergency kit on hand — the kind for "toilet emergencies." Even the most well-trained service dogs could have "an accident" at one time or another. Carrying the proper tools for cleaning saves time and effort — and reduces some embarrassment.
Conclusion
You can fly with your service dog, but remember to (1) complete the required paperwork, (2) be aware of the questions others may and can ask and be prepared to give appropriate answers, and (3) keep an emergency kit with you. Proper planning makes all the difference when traveling on an airplane with your service dog.
Latest Posts
How ESAs Help Seniors in Assisted Care Living Facilities
There's something about a wagging tail and a furry face that lights up the atmosphere and brings people together. Dogs and cats can brighten up a room. But, perhaps more importantly, they can heal. This healing factor is why emotional support animals can help seniors in assisted living facilities. What is an Emotional Support Animal? […]

Can I Take a Service Dog to College?
Service dogs are not just for the visually or hearing impaired individual. Service dogs have lent a helping paw to individuals with a broader range of physical and psychological conditions. But what if you are a student and need a service dog? Will colleges allow dogs on campus and into the classroom? Read on for […]

Service Dogs for Mobility Issues
For people with mobility issues, a service dog can provide life-changing help. This assistance animal will help with daily tasks, like retrieving items, helping with balance, or opening doors in public places that would otherwise be of great difficulty for people with mobility issues. A service dog that is specialized in mobility issues suffered by […]