Home Page › Blog › Female prisoners training service dogs for veterans
Female prisoners training service dogs for veterans
Female inmates in Utah are getting a chance to give back to the community. Dogs from local shelters are being brought in and trained by the inmates to become future service dogs. By training shelter dogs to become service dogs, there is a  win-win-win situation that helps everybody involved. Shelter dogs are released from their death sentence, inmates gain the companionship of dogs and the feeling of accomplishment that follows after doing something good for someone else, and war veterans get a fully trained service dog to help them cope.
It takes up to 9 months and $15,000 to adequately train a service dog for soldiers with PTSD and other psychological and physical ailments. It is estimated that 1 in 4 dogs will pass the service dog training, but don't worry, the dogs that don't pass are adopted by loving families.
Canines with a Cause is a non profit organization that pairs psychiatric service dogs with Iraq and Afghanistan war veterans.
Latest Posts
How to Keep a Service Dog Training Log
Any educator will tell you that their grade book and lesson plan serves multiple purposes. It keeps them organized and identifies how well their students are doing. When students fall behind, an educator can easily spot their weak areas and strengthen them. In the end, grade books and lesson plans also serve as documentation to […]

How to Bring a Service Dog on Cruise Ships
Your service dog can go with you almost anywhere, and this includes the open seas! Bringing your service dog on a cruise ship allows you to enjoy your vacation safely and comfortably, without extra worry about your health. Want to bring your service dog on a cruise ship? Keep reading to find out how you […]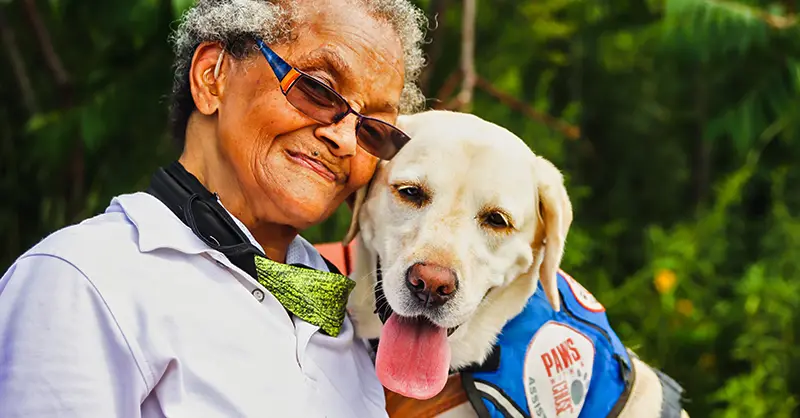 Service Dogs for Seniors
According to the most recent U.S. Census Bureau Data (2010), about 40.3 million people aged 65 and older live in the U.S, and the numbers keep growing. The U.S. Census Bureau estimates that the senior population may exceed 70 million by 2030. And with this rapid growth in the number of seniors comes the need […]