Home Page › Blog › Service dogs assist mental illness patients
Service dogs assist mental illness patients
There are many disabilities that are not visible to the eye. People with anxiety, PTSD, panic attacks, etc. do not exhibit visible symptoms and are usually judged when accompanied by service dogs and emotional support animals. The public needs to be educated about invisible disabilities and the need for service animals for people with these disabilities. We commend Notre Dame for their acceptance and progressive attitude towards mental illness service animals. Please read below for the full article.
Junior Ellen Chaleff's dog, a Dachshund/rat terrier mix named Fred, is there when she wakes up in the morning. He's there, wearing an NYPD coat, when she walks between classes. He's there when she sits in class, when she eats at the dining hall, when she's at Ultimate Frisbee practice and when she goes to bed at night.

And if Chaleff has a panic attack, he's also there, curled up on her lap until it passes.

The first service dog for mental illness on campus, Fred has been at Notre Dame with Chaleff since last Halloween. Chaleff, who began showing symptoms of bipolar disorder in high school, said she found out about him after he was rescued from an abusive home. He already had training as an emotional support dog, making him easier to train further as a service animal. Professionals trained him to help with bipolar disorder, and Chaleff said she did the rest.
Photo courtesy of I am Notre Dame
"I trained him to be in public, to be in a restaurant, to be in a dining hall, to sit in a classroom," she said.

Disability services coordinator Scott Howland said students requesting accommodation must provide documentation of their disability, and students requesting service animals must say why they need one, though they do not need proof of the animal's training. He said the process varies from person to person.

"The key factor to any sort of accommodation request, regardless of what it is, is we would want to look at all the variables, look at the case on an individual basis to make the best decision," he said. "We would never automatically think that a similar request is the same as the first."

Chaleff said she worked with Notre Dame's Disability Services to make sure her professors, Notre Dame Food Services and Office of Housing were aware of and accommodating of Fred.

Chaleff and Disability Services also worked with lawyers. Howland said students with service dogs, as with any disability, are protected by the Americans with Disabilities Act, Section 504 of the Rehabilitation Act, which prohibits discrimination based on disability and the Fair Housing Act, which prohibits denial of housing because of disability.

Service dogs for mental illness are trickier, Howland said, because there is less of a precedent on how to accommodate them.

"The whole issue of service animals and emotional support animals is still somewhat of a new topic on college campuses," he said. "There's been recent court cases regarding that, so a lot of schools will look to those court cases — how this issue was resolved between this individual and this college — and use that as a way to guide their own policies or their own procedures."

Now, with only a few location exceptions, Chaleff said Fred can go anywhere she does. Off campus, she said employees will sometimes be reluctant to let her and Fred into businesses because they don't believe Fred is a service dog, or people will make assumptions about why Fred is there — such as that Chaleff is blind.

On campus, Chaleff said people take Fred in stride.

"The first few months, a bunch of people ran up to him, but now he's just out there," she said.

In class, Chaleff said Fred normally sleeps on a blanket next to her desk. He has also quickly become acclimated to her friends, especially on the Ultimate Frisbee team, she said.

"We were at a game watch of 30 people, and I was concerned about how he would work," she said. "I might have to drive him home really quick, but he just ran around people, came back to me, walked around, tried to steal someone's sandwich, then slept on [my friend] Caitlyn's lap. It's what happens."

Since she has only had Fred for a few months, Chaleff said he still has improvements to make.

"His service stuff, he knows how to do," she said. "He knows how to detect panic attacks and depression, and he can detect that in other people, not just me. [But] he doesn't know 'sit.' He walks into things a lot. He gets himself entangled around tables. It's great."

Since getting Fred, Chaleff said her life has improved dramatically.

"I don't have to skip as many classes; I can go out more and do things," she said. "I have these periods where I feel like I can't eat physically, and he won't eat while I'm doing that. And I feel guilty, so I go to the dining hall, which annoys me, but it does what it's supposed to do."

Chaleff said she hopes to raise awareness of the possibility of service dogs for mental illness. In December, she started a blog about her experiences with Fred, and in January, she and Fred were featured on the I Am Notre Dame blog.

"I'm hoping that other people do try out service dogs because I've heard a lot of great things about them, and me having him for a few months has helped a lot," she said. "It's a responsibility, obviously, but it's definitely worth the trade-off."

h/t  to the The Observer
Latest Posts
How to Keep a Service Dog Training Log
Any educator will tell you that their grade book and lesson plan serves multiple purposes. It keeps them organized and identifies how well their students are doing. When students fall behind, an educator can easily spot their weak areas and strengthen them. In the end, grade books and lesson plans also serve as documentation to […]

How to Bring a Service Dog on Cruise Ships
Your service dog can go with you almost anywhere, and this includes the open seas! Bringing your service dog on a cruise ship allows you to enjoy your vacation safely and comfortably, without extra worry about your health. Want to bring your service dog on a cruise ship? Keep reading to find out how you […]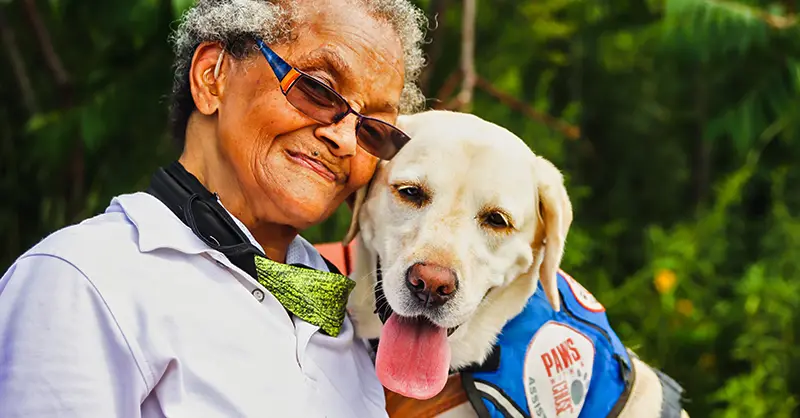 Service Dogs for Seniors
According to the most recent U.S. Census Bureau Data (2010), about 40.3 million people aged 65 and older live in the U.S, and the numbers keep growing. The U.S. Census Bureau estimates that the senior population may exceed 70 million by 2030. And with this rapid growth in the number of seniors comes the need […]