Home Page › Blog › Service dogs helping soldiers with PTSD
Service dogs helping soldiers with PTSD
According to the U.S. Department of Veterans Affairs, an estimated 11% of veterans that served in Afghanistan and around 20% of veterans that served in Iraq currently suffer from PTSD. 
Dustin Deweerd, a veteran of the war in Afghanistan suffers from symptoms of post traumatic stress disorder. He has nightmares, anxiety, and flashbacks.
Deweerd was united with Gunny, a 3 year old Labrador Retriever service dog to help calm his PTSD symptoms and calm his anxieties. The service dog has been a godsend and has helped Deweerd cope. Gunny helps prevent the anxiety from even manifesting. "For some veterans, the dog can help a person go out in public. But for me, Gunny helped me go home," said Deweerd. 
Deweerd and Gunny were brought together with the help of Patriot Paws, a nonprofit that trains service animals and unites them with war veterans.
To read more about Dustin and Gunny please read the full article here.
Latest Posts
How to Get a Psychiatric Service Dog (PSD)
A Psychiatric Service Dog (PSD) is a Service Animal specifically trained to support individuals diagnosed with a mental illness. A well trained PSD is able to ease symptoms caused by the mental disability and can comfort their handler in times of distress. In this article, we'll cover how to be approved for a PSD, what […]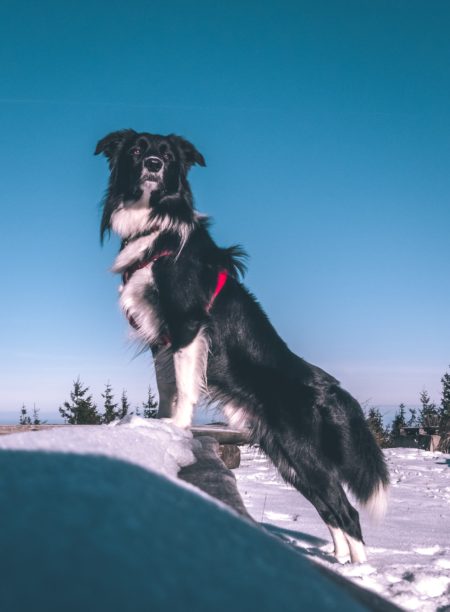 Should I Vaccinate My Service Dog?
Like all canines, Service Dogs will need to be vaccinated. In fact, they may need these immunity-building aids even more so than the average pet. Find out why and other relevant information on vaccines and Service Dogs within this article. The Service Dog Under the definition stated by the Americans With Disabilities Act (ADA), Service […]

Service Dog for Anxiety – Everything You Need to Know
Service Dogs are used for a variety of purposes, ranging from guiding individuals with visual impairments to notifying those with medical disorders of impending episodes. Under the Americans with Disabilities Act (ADA), Service Dogs can also be used for those with mental illnesses, such as post-traumatic stress disorder (PTSD), obsessive-compulsive disorder (OCD), and anxiety. These […]