Home Page › Blog › How to Fly With a Service Dog on Delta Airlines
How to Fly With a Service Dog on Delta Airlines
If you plan on traveling, you might find yourself making arrangements to fly with your service dog. Although service dogs are protected by federal laws, flying with your service dog still takes some preparation. The following are a few pointers on how to fly on Delta Airlines with a service dog.
About Delta Airlines
As the world's most awarded airline, you may fly with Delta Airlines at least once in your lifetime. In 2021, Delta ranked No. 1 in J.D. Power and Associates North America Airline Satisfaction Study. Delta helps 200 million fly each year, with over 50 countries and 300 destinations in their network.

Laws that Protect Your Service Dog While Traveling
With so many routes to choose from, Delta Airline may just have the destination you're planning to fly to with your service dog. When you travel, two federal laws apply to you and your service dog:
The Americans with Disabilities Act
The Americans with Disabilities Act (ADA) protects the rights of people with disabilities, which includes the service dogs that work for them. Unlike pets, emotional support animals, and therapy dogs, service dogs receive specific training to fulfill a task required by a person with a disability. Service dogs are necessary for the safety and well-being of their handler.
The Air Carrier Access Act
The Air Carrier Access Act (ACA) protects the rights of individuals to have their service dog accompany them while they travel. Pet fees and regulations don't apply to service dogs.
Despite these laws, airlines may require notification and preparation before a service dog boards its flight. These requirements aren't meant to make traveling with a service dog a challenge; Instead, they help streamline the traveling process and ensure safety for everyone.
Flying With Your Service Dog On Delta Airlines
Currently, Delta Airlines only accepts service dogs and psychiatric service dogs. Other service animals are not allowed to fly as service animals on any Delta flights. Therefore, pet fees and regulations apply to non-canine service animals.
Delta no longer accepts emotional support dog (ESA) reservations as of January 11, 2021. Only service dogs are covered under ADA and ACA laws. Each customer may fly with, at the most, two trained service dogs.
Step1: Vaccinations and Relief
The completion of two documents is required before flying on Delta Airlines with your service dog.
The U.S. DOT Service Animal Air Travel Form
The U.S. DOT Service Animal Air Travel Form attests to the service dog's health, behavior, and training. The form must be submitted before flying on Delta with a service animal. For flights booked 48 hours or more before the departure time, the form is provided to Delta through the Accessibility Request form on the My Trips webpage. For flights booked less than 48 hours from departure, the U.S. DOT Service Animal Air Travel Form is submitted at the check-in counter or the gate of departure.
The DOT Relief Attestation Form
The DOT Relief Attestation Form is submitted for flights lasting 8 hours or more. On this form, the service dog handler attests that the dog can relieve itself in a sanitary manner or, preferably, will not relieve itself while on the airplane.
Step 2: Space Considerations
When traveling with a service dog, Delta Airlines asks customers to select a seat that can accommodate the dog comfortably. The service dog must be seated on the floor below the seat or, if small enough, on their handler's lap. Service dogs are not allowed to sit in a seat or consume food off of the tray tables. For FAA safety reasons, service dogs may not extend into the aisle or reach into another customer's space.
A service dog may not extend past the footprint of the assigned seat of their handler. If the dog is too large or may become an obstruction, the handler may check the service animal as baggage without charge. Otherwise, the handler may purchase a second ticket at the same rate for the service animal — however, a seat on the flight depends on availability at the time.
Step 3: Extra Time to Check-In and Board
Allow for extra time to check-in and board when traveling with a service animal. The additional documents and accommodations may delay your boarding process, and it's best to have a generous window of time to fulfill all requirements.
Additionally, it's a good idea to let your service dog relieve itself before any flight, no matter how long. All U.S. airports have a designated animal relief area. This will help prevent unnecessary accidents and embarrassment.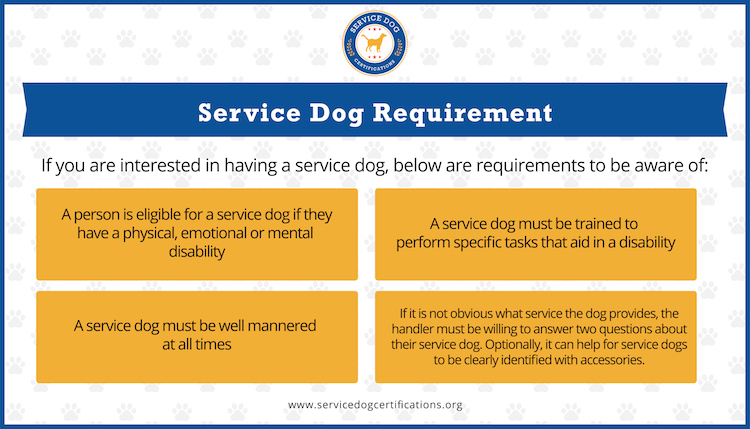 Quarantine Requirements for Dogs
Due to quarantine requirements and laws, some locations may not permit the entry of animals — even service animals. Check the animal requirements of your destination prior to booking the flight.
Service Dog Behavior
Delta may refuse to accommodate a service dog if it exhibits any of the following behaviors:
Growling or biting
Jumping on others people
Urinating or defecating in the gate area or the cabin
Barking excessively
Consuming items off the tray tables
Flying on Delta With Your Service Dog
Customers who have additional questions about flying with a service dog on Delta Airlines can contact them directly by calling Delta's customer service at 404-209-3434.
Latest Posts
How ESAs Help Seniors in Assisted Care Living Facilities
There's something about a wagging tail and a furry face that lights up the atmosphere and brings people together. Dogs and cats can brighten up a room. But, perhaps more importantly, they can heal. This healing factor is why emotional support animals can help seniors in assisted living facilities. What is an Emotional Support Animal? […]

Can I Take a Service Dog to College?
Service dogs are not just for the visually or hearing impaired individual. Service dogs have lent a helping paw to individuals with a broader range of physical and psychological conditions. But what if you are a student and need a service dog? Will colleges allow dogs on campus and into the classroom? Read on for […]

Service Dogs for Mobility Issues
For people with mobility issues, a service dog can provide life-changing help. This assistance animal will help with daily tasks, like retrieving items, helping with balance, or opening doors in public places that would otherwise be of great difficulty for people with mobility issues. A service dog that is specialized in mobility issues suffered by […]