Home Page › Blog › How to Fly with a Service Dog on American Airlines
How to Fly with a Service Dog on American Airlines
If you're traveling with American Airlines with a service dog, you may want to educate yourself on the process. Before boarding, American Airlines — and most other airlines — ask their customers to fill out documents and meet requirements regarding their service dog. Please note that only dogs are accepted as service animals on American Airline flights.
Service Dogs on American Airlines
Fully-trained service dogs and psychiatric service dogs can fly in the cabin of the plane without charge, as long as they meet the airline's service dog requirements. Team members from the airlines receive training to ask appropriate questions, which helps determine whether a dog is an acceptable service dog for travel. American Airlines defines a service dog as a dog trained to work for an individual with a qualified disability. 
The disability may be sensory, psychiatric, intellectual, or physical. Some examples are:
Deafness
Seizures
Post-traumatic stress disorder (PTSD)
Mobility problems
Visual impairments
Deafness
Seizures
Mobility impairments

How to Fly with a Service Dog on American Airlines
Instructions
Read and complete the DOT Service Animal Air Transportation Form
Complete the DOT Service Animal Relief Attestation Form if applicable for your trip
Submit your form(s) at least 48 hours before your flight
Keep the form(s) with you during your trip
If you're traveling with a service dog on American Airlines, you'll need to complete a few forms before your departure. American Airlines asks service dog handlers to read and complete the Department of Transportation (DOT) Service Animal Air Transportation Form and, if applicable, the DOT Service Animal Relief Attestation Form. 
The U.S. Department of Transportation (DOT) Service Animal Air Transportation Form serves as a declaration to the health and training of your dog. The Department of Transportation Service Animal Relief Attestation Sanitation Form, on the other hand, is typically for flights over 8 hours long. The form is a statement that the dog:
Will not need to relieve itself or
Can relieve itself in a way that will not create a health issue for other passengers
Both forms are submitted within 48 hours before the flight.
If the ticket was purchased 48 hours before the flight, service dog handlers may complete the document at the airport's Special Assistance desk, as long as they appear at the airport ahead of time to finish the forms. For your convenience, you should keep copies of the forms with you throughout the trip.
Service Animal Identification
Although there's no centralized database in the U.S. for animals, American Airlines keeps its own database of its own service animal travelers. Keeping records simplifies the traveling process for its customers. Once your forms are submitted and approved by American Airlines, the company issues your dog an SVAN ID (service animal identification). This SVAN ID expires a year after being issued (or when the animal's vaccination expires, whichever comes first), but handlers will not have to resubmit forms for any American Airlines flights during that time period.
Service Dog Fees on American Airlines
American Airlines does not charge any type of fees for service dogs. If your dog does not meet the service dog requirements, you may have to categorize your dog as a pet and pay a pet travel fee.
Behavior and Travel Requirements
Even for service animals, all airlines have behavioral and travel requirements. American Airlines is no exception. American Airlines requires the following:
The service dog must be leashed, tethered, or harnessed at all times.
The service dog must be over the age of 4 months, clean, and well-behaved.
The service dog must fit in the handler's lap, under the seat, or at their handler's feet.
Kennels must fit under the handler's seat.
A handler is limited to two service animals.
A service dog should not:
Block aisles or occupy a seat.
Consume food from tray tables.
Sit in an exit row.
If a service animal is too large to adhere to the requirements, the handler may:
Rebook on another flight with more open seats
Purchase a ticket for the animal.
Check the animal as a pet.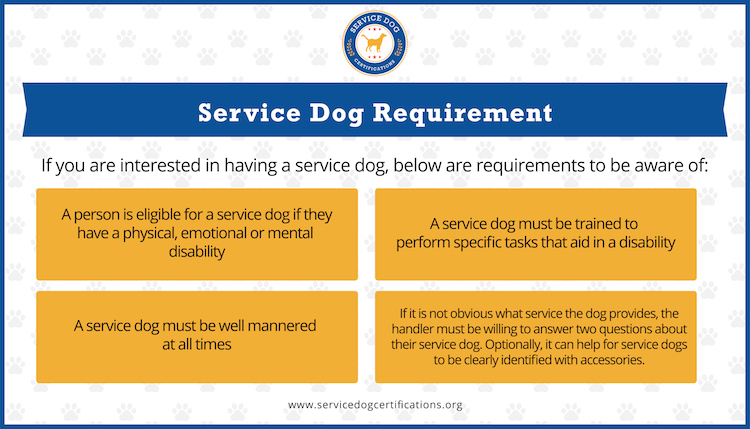 Emotional Support as Pets
If you have an emotional support animal (ESA), know that policies for assistance animals were changed as of January 11, 2021. Since that date, American Airlines ceased to authorize new travel for ESAs. If you're traveling with an ESA, American Airlines encourages you to transport your ESA, therapy dog, or comfort animal as a pet.
Keep in mind that the rules for service animals differ from those for pets, ESA, therapy dogs, and comfort animals. If you have a domesticated cat or dog, you may travel with your animal as an in-cabin pet, though extra charges may apply. In-cabin pets are cats or dogs that can fit in a kennel and kept under the seat in the front. American Airlines prohibits Pit Bull breeds in the cabin and does not allow in-cabin pets on flights to and from Hawaii.
American Airlines and Service Dogs
If you're planning on traveling with your service dog, it's good to prepare beforehand. Completing the appropriate documentation and preparing your service animal prior to the flight will help to make the whole trip smoother.
Latest Posts
How ESAs Help Seniors in Assisted Care Living Facilities
There's something about a wagging tail and a furry face that lights up the atmosphere and brings people together. Dogs and cats can brighten up a room. But, perhaps more importantly, they can heal. This healing factor is why emotional support animals can help seniors in assisted living facilities. What is an Emotional Support Animal? […]

Can I Take a Service Dog to College?
Service dogs are not just for the visually or hearing impaired individual. Service dogs have lent a helping paw to individuals with a broader range of physical and psychological conditions. But what if you are a student and need a service dog? Will colleges allow dogs on campus and into the classroom? Read on for […]

Service Dogs for Mobility Issues
For people with mobility issues, a service dog can provide life-changing help. This assistance animal will help with daily tasks, like retrieving items, helping with balance, or opening doors in public places that would otherwise be of great difficulty for people with mobility issues. A service dog that is specialized in mobility issues suffered by […]