Home Page › Blog › Service dog services and tasks
Service dog services and tasks
Service Dog Services: What Service Dogs Do for Others
Service dogs perform a wide number of tasks on a daily basis for their trainers and owners. These tasks can depend upon the trainer or owner that they have been paired with, as well as their needs. Here, we will take a look at service dog services. We will tell you when and why service dog services differ from dog to dog and person to person. Then we will provide you with example service dog services. Lastly, we will tell you where you can learn more about service dogs.
Training Depends on the Disability
Service dog services are tailored based upon what the trainer or owner needs. For example, a person who is deaf will need different service dog services than a person who is in a wheelchair. Many dogs are trained with a particular disability or owner in mind. In this way they can be trained to help with very specific tasks, from calming their owner down to fetching things around the house, which their particular owners truly need in their service animal. Both owner and dog gain something from this particular relationship. One gains greater independence while another gains an owner that truly loves them.
Example Tasks
Here are a few example service dog services:
Helping with balance while walking or going up and down stairs.
Calming down patients who might need calming down on a regular basis.
Get dropped or needed objects.
Find help, if needed.
Help with crossing the road and guiding their owners.
Turning on and off lights and other switches.
Helping patients get in and out of wheelchairs.
Carry various items for the patient.
Open and close doors.
Helping clients to put on or take off shoes, coats, or other items.
Be a constant companion and friend to their owners.
Learning More
Want to learn more about service dog services, training programs, and more? If so, the biggest resource at your fingertips is the internet. There you can find webpages about training programs, how-to train your own service dogs, videos of how service dogs can help, and much more. If you have not thought about becoming a service dog trainer, but have a passion for animals, you should consider it. Service dog services are invaluable to those that are reliant on them on a daily basis. You could be helping an animal, as well as a future owner!
Latest Posts
How to Keep a Service Dog Training Log
Any educator will tell you that their grade book and lesson plan serves multiple purposes. It keeps them organized and identifies how well their students are doing. When students fall behind, an educator can easily spot their weak areas and strengthen them. In the end, grade books and lesson plans also serve as documentation to […]

How to Bring a Service Dog on Cruise Ships
Your service dog can go with you almost anywhere, and this includes the open seas! Bringing your service dog on a cruise ship allows you to enjoy your vacation safely and comfortably, without extra worry about your health. Want to bring your service dog on a cruise ship? Keep reading to find out how you […]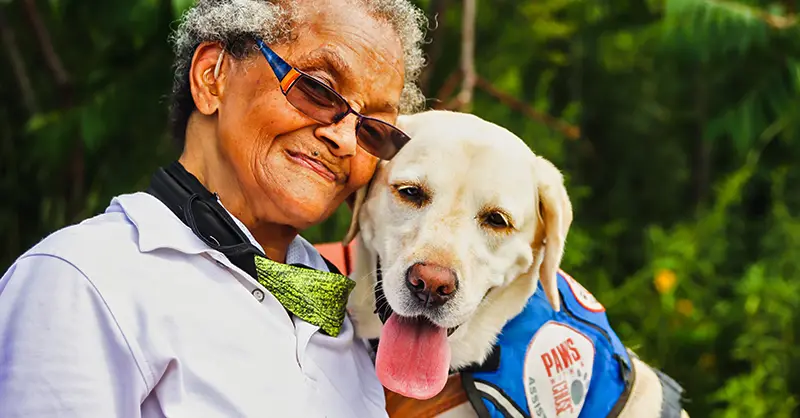 Service Dogs for Seniors
According to the most recent U.S. Census Bureau Data (2010), about 40.3 million people aged 65 and older live in the U.S, and the numbers keep growing. The U.S. Census Bureau estimates that the senior population may exceed 70 million by 2030. And with this rapid growth in the number of seniors comes the need […]