Home Page › Blog › Can You Get a Grant for a Service Dog?
Can You Get a Grant for a Service Dog?
Dogs are helping humans in many ways. For individuals with disabilities, dogs can perform tasks to assist them with daily tasks the handler could not do by themselves. These service dogs can greatly improve their owner's life or even perform life-saving tasks. However, a good service dog comes with a cost. In this article, we'll look at the possibilities of getting a grant to sponsor a service dog.
The Price of a Service Dog
Because the work service dogs perform is so vital, a service dog's cost can be steep. The price depends on the service dog's breed and training, but a trained service dog from a reputable organization can cost 10,000 to 40,000 dollars. Little Angels Service Dogs, a non-profit that sells service dogs, estimates their service dogs cost about 38,000 dollars to train. Although it's possible to train your service dog, finding the right dog and putting in the time and effort to teach them can have its costs. And unfortunately, it's not guaranteed that the dog you choose to train will be able to perform the tasks you need in the end.
Obtaining a Grant for a Service Dog
To help mitigate the cost of a service dog, many service dog agencies offer grants. These organizations are usually non-profits, foundations, or businesses that assist people who are disabled and need a service dog. Most of these agencies require that you apply and give verifiable documentation of your disability to qualify for a grant.
A grant is not a loan; it doesn't require repayment to the people you received the grant from. Some organizations receive donations from the public or funds from the government to obtain and train service dogs, and grants are used in place of cash payment for these dogs from the person in need. Some grants may cover the full cost of a service dog, while others may provide partial payment, and the recipient of the dog must cover the rest. Applying doesn't always guarantee a service dog, but the process is straightforward.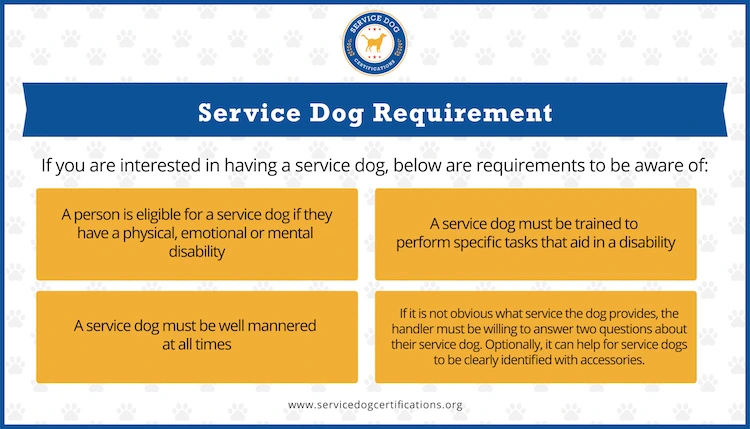 Steps to Get A Grant for a Service Dog
1. See a Doctor
Before starting the process of seeking a grant for a service dog, you should speak to your doctor. Most organizations will require a letter or prescription from your doctor stating that a service animal can help you manage your disability. Your doctor should note what type of meaningful assistance the service could provide to mitigate the issues caused by your disability.
2. Look for an Organization and Apply
Luckily, some organizations exist to help people with disabilities obtain a service dog. A few organizations cater to a particular location or demographic (for example, veterans), so it's a good idea to investigate the organization before applying. Look for reputable agencies with good reviews, and don't be shy to ask other people for their opinion.
Here are a few reputable organizations that offer grants for service dogs:
NEADS
NEADS is a highly reputable organization with a long history in the service dog industry. Although the service dog's cost is free, each client must agree to fundraise $8,000 with the help of NEADS fundraising kits and resources. NEADS offers service dogs for children, veterans, and adults who are hearing impaired.
Patriot Paws
Patriot Paws work with military veterans to connect them with the right service dog to help with their disability at no cost. Although all veterans may apply, priority goes to Desert Storm veterans.
Paws with a Cause
Paws with a Cause is a non-profit which operates through public donations. Service dog applicants pay a nominal fee to apply for a service dog. If approved, service dogs are provided at no cost. To qualify, applicants must have a physical disability, seizure disorder, a hearing impairment, or have a child with autism.
Who Gets a Grant?
Technically, grants go to organizations, not individuals. This is why people seeking a service dog must apply to a non-profit or business to receive a service dog funded through grants. Remember that you may not receive a service dog immediately and may need to apply to many organizations. Part of the application process requires verifying your information, and a field agent may come to your home to evaluate whether it's safe for a service dog.
Note that the yearly costs of a service dog from grooming, veterinary fees, and food are often not included. Therefore, the recipient must have the financial ability to provide for the service dog for the years to come.
Latest Posts
How ESAs Help Seniors in Assisted Care Living Facilities
There's something about a wagging tail and a furry face that lights up the atmosphere and brings people together. Dogs and cats can brighten up a room. But, perhaps more importantly, they can heal. This healing factor is why emotional support animals can help seniors in assisted living facilities. What is an Emotional Support Animal? […]

Can I Take a Service Dog to College?
Service dogs are not just for the visually or hearing impaired individual. Service dogs have lent a helping paw to individuals with a broader range of physical and psychological conditions. But what if you are a student and need a service dog? Will colleges allow dogs on campus and into the classroom? Read on for […]

Service Dogs for Mobility Issues
For people with mobility issues, a service dog can provide life-changing help. This assistance animal will help with daily tasks, like retrieving items, helping with balance, or opening doors in public places that would otherwise be of great difficulty for people with mobility issues. A service dog that is specialized in mobility issues suffered by […]