Home Page › Blog › How to Register Your Dog as a Service Dog in Florida
How to Register Your Dog as a Service Dog in Florida
In a world that can be challenging for individuals with a disability, a service dog can make everyday life much easier. The Sunshine State looks kindly towards service dogs and understands that these dogs are not just useful, but necessary.
For individuals with a disability, having a service dog around when in need can be the difference between a good life and difficult life. Therefore, it's essential that service dogs can be with their handlers at all times. Qualifying and properly training a service dog is one of the best ways to ensure that a service animal can remain with their handlers at all times and do their jobs.
Is a Service Dog Right for You?
Service dogs are not pets and are considered necessary medical devices for a person with a disability. According to the Americans with Disabilities Act (ADA), a person with a disability is someone:
"[…] who has a physical or mental impairment that substantially limits one or more major life activities, a person who has a history or record of such an impairment, or a person who is perceived by others as having such an impairment."
If you have a disability, you may benefit from a service dog.
Evaluate what your needs are and if a dog can be trained to perform that service. For instance, if you have mobility issues, you may be able to train a dog to obtain your medications, your cane, and your clothing. Decide which needs could be addressed by a service dog, and seek consultation from your healthcare professional.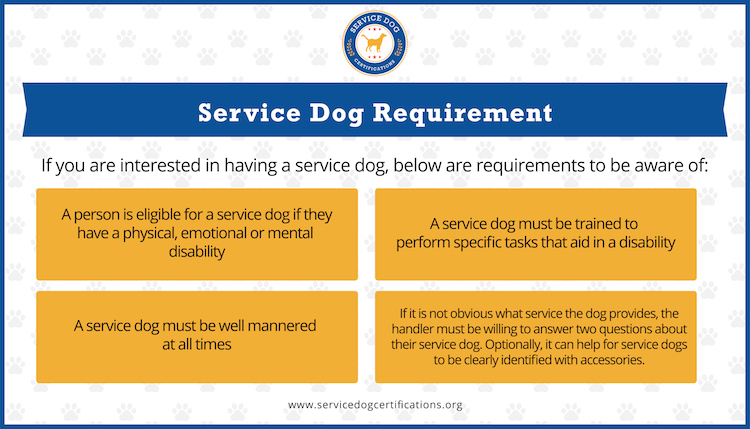 Choosing the Right Breed for You
When you're deciding on a service dog, choosing the right breed is vital to getting the job done right. Consider the tasks you need fulfilled, and assess what size or breeds can complete those tasks. You may prefer small dogs, but asking a 14-pound chihuahua to help with preventing you from falling may not be feasible. However, a Newfoundland could certainly do the job.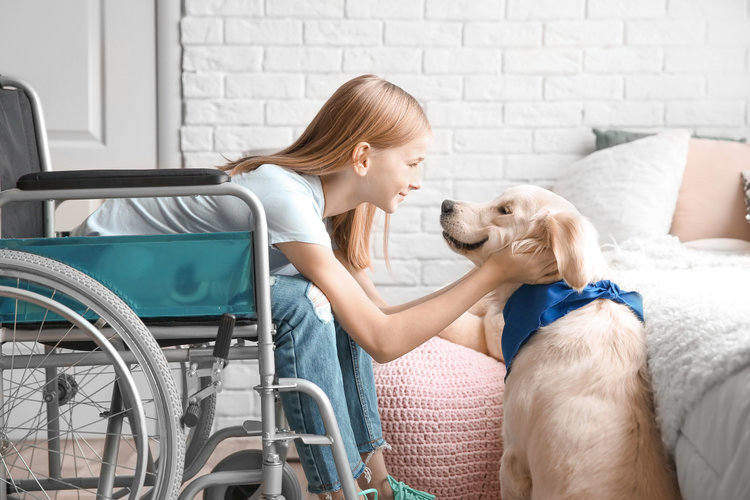 Train Your Dog for Your Needs
A service dog must be well-trained to perform their necessary tasks. There are three options to get your service dog's training done:
Purchase from a service dog trainer – You can choose to purchase a dog from a reputable service dog training organization that has already been trained for the tasks you need.
Hire a professional trainer – If you prefer, you can select a dog and outsource the dog's training.
Train yourself – If you want, you may train the dog yourself. It may take more work on your part, but by doing the training yourself, you can develop rapport along the way. Thus, you would be bonding while training.
With all the time, money, and effort placed into a service dog, it may be advisable to have it registered.
Register Your Service Dog in Florida
When a service dog is registered, you can show your registration card and protect your privacy. The service dog registration card shows that your dog is a service dog without having to discuss your private medical information. Although it is not required, you may find that travel and lodging can be much easier to obtain when you have a registered service dog. Registering a service dog may be a bit of an effort at first, but it can save a lot of hassle in the long run. Find out how to register your service dog in Florida below.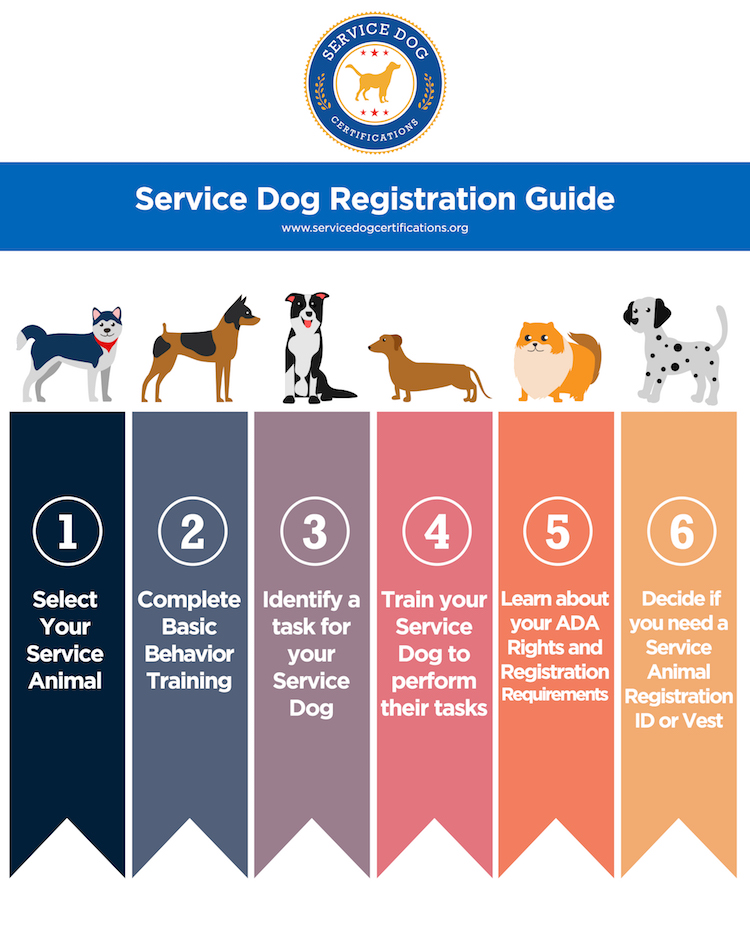 How to Register Your Dog as a Service Dog in Florida
Enter the service dog owner's name. There can be one name per registration.
Enter the name of the service dog. The service dog's name and picture will be entered into the service dog registration database.
Enter your email address. This is so that you can receive your digital identification card and registration information.
Upload a recent photo of your service dog. This is to show what your service dog looks like.
Select the format of the registration. You can order a service dog identification card, service dog collar tag, paper certificate, digital registration, etc.
Why Should I Register My Dog as a Service Dog?
Though the ADA doesn't require service dogs to be registered, it's still an excellent idea. Registering your service dog allows you a degree of privacy because you are less likely to be questioned about your condition or approached. 
Due to the increase in fraudulent service animals, the public may not be ready to accept your dog as a service animal. Registering your animal provides immediate proof of status—allowing you to avoid any disagreements. Fraudulent service and therapy dog claims make the public wary of legitimate service dogs. Registration re-builds public trust and allows service dogs to do their job.

Florida Statute 413.08
The Florida Statute 413.08 specifically outlines the state laws concerning service animals and states explicitly that a service animal is "not a pet." The statue also allows for handlers with a service dog in training to have the same rights as people who already have a fully trained service dog.
Florida Service Dog News
Rescue 22, in partnership with the University of California, trains, and places service dogs with veterans free of charge. The Rescue 22 project attempts to match their service dog training very closely with the needs, household situation, and lifestyle of the individual veteran. Rescue 22 obtains their dogs from shelters, rescues, and surrenders—they do not utilize ex-military K-9s. Although it may seem to be a great match, these dogs are often more mature and may not be a good fit!
Latest Posts
How ESAs Help Seniors in Assisted Care Living Facilities
There's something about a wagging tail and a furry face that lights up the atmosphere and brings people together. Dogs and cats can brighten up a room. But, perhaps more importantly, they can heal. This healing factor is why emotional support animals can help seniors in assisted living facilities. What is an Emotional Support Animal? […]

Can I Take a Service Dog to College?
Service dogs are not just for the visually or hearing impaired individual. Service dogs have lent a helping paw to individuals with a broader range of physical and psychological conditions. But what if you are a student and need a service dog? Will colleges allow dogs on campus and into the classroom? Read on for […]

Service Dogs for Mobility Issues
For people with mobility issues, a service dog can provide life-changing help. This assistance animal will help with daily tasks, like retrieving items, helping with balance, or opening doors in public places that would otherwise be of great difficulty for people with mobility issues. A service dog that is specialized in mobility issues suffered by […]