Home Page › Blog › How to Register Your Dog as a Service Dog in Florida
How to Register Your Dog as a Service Dog in Florida
Service dogs are a necessity for people with physical and mental health disabilities. Florida recognizes this reality and provides legal protection and special rights for service dog owners.
Service dog owners in The Sunshine State have the right to enter public areas normally closed off to animals. Florida residents are also allowed to keep service dogs in homes and apartments that don't allow pets.
In this article, we will explain some important things you should know about service dogs in Florida.
Who can own a service dog in Florida?
Service dogs are not normal pets; they are legally protected assistance animals for people with disabilities. According to the Americans with Disabilities Act (ADA), a person with a disability is someone:
"[…] who has a physical or mental impairment that substantially limits one or more major life activities…"

Americans with Disabilities Act (ADA)
The disability can be physical or mental. Service dogs used for psychiatric, mental, or intellectual disabilities are referred to as psychiatric service dogs.
In addition to having a physical or mental health disability, the handler (by themselves or with the assistance of a professional) must train a dog to perform a job or task that assists with their disability.
Service dogs perform an amazing variety of tasks like pulling wheelchairs, guiding the visually impaired, and providing comfort and protection for individuals with psychiatric disabilities.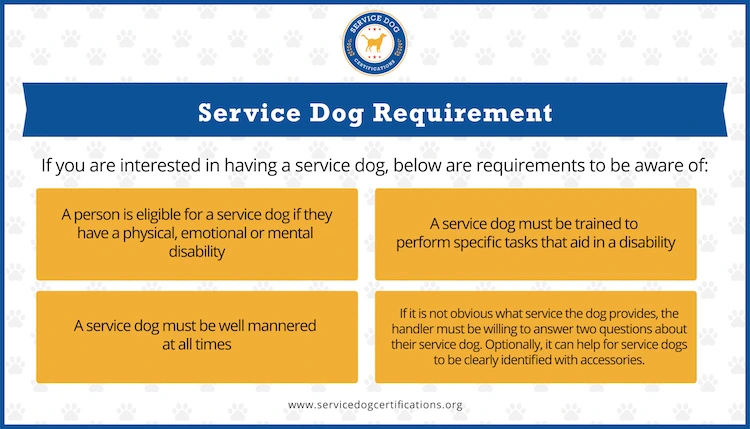 How to Register Your Dog as a Service Dog in Florida
Do you need to register a service dog in Florida? The simple answer is no, but you might want to anyway. Neither federal nor state service dog rules require an animal to be registered as a service dog. Many service dog owners, however, register their dogs in optional databases to obtain ID cards.
Service dog owners very frequently use accessories like vests, ID cards, and certificates as an easy way to signal to the public that they have a specialized assistance animal. These items can be helpful tools that demonstrate to third parties that your dog is not a pet but a highly trained service dog.
Another benefit of service dog paraphernalia is warding off intrusive inquiries about why a dog is in a particular area closed off to pets. They can also serve as a warning to others not to interfere with your service dog or pet it while it is on duty.
It is important to recognize that no one can insist you have these items as a condition. Service dog handlers display these items for their convenience. In addition, these accessories cannot be used as a substitute for valid service dog verification.
In Florida, third parties that want to verify a service dog are permitted to ask two questions (and only if the disability requiring the dog is not obvious):
Is the dog a service dog required for a disability? and
What work or task has the dog been trained to perform?
If a service dog handler in Florida can validly answer these two questions, they must be reasonably accommodated in areas open to the public without having to show further documentation.
If you're interested in registering your service dog and obtaining an ID card, Service Dog Certifications (SDC) offers a database and service dog accessories for service dog owners. To register a service dog with SDC, you can take the following steps:
Confirm you are a service dog owner. You will be asked to confirm that you are a service dog owner with a qualifying disability and a fully trained service dog.
Enter the name of the service dog and owner. This information will be entered into the service dog registration database.
Enter your email address. This is where you will receive your digital identification card and registration information.
Upload a recent photo of your service dog. The photo will be displayed on the ID card and in the database.
Select optional accessories. You can order additional service dog identification cards, a service dog collar tag, paper certificate, vest, etc.

Training a Service Dog in Florida
A service dog must be specifically trained to perform their necessary tasks. In addition, a service dog must also be trained to be well-behaved and in control when in public settings.
A service dog may be asked to leave if it is acting unruly or threatening the health or safety of others. There are generally three options when it comes to training a service dog:
Adopt a dog from a service dog trainer – You may be able to adopt a dog from a reputable service dog training organization that has already been trained for the tasks you need. This is a great option when available but can be quite expensive.
Hire a professional trainer – If you prefer, you can select a dog yourself and outsource the dog's training by hiring a professional.
Training on your own – You also have the option to train the dog yourself. It may take more work on your part, but by doing the training yourself, you can also develop rapport along the way. Service dog rules allow for handlers to train service dogs on their own without outside help. Training a service dog can be a long and difficult process – you should feel confident you have the ability and knowledge to properly train a service dog before proceeding.
| | |
| --- | --- |
| | Keeping a training log will help with analyzing the progress of your service dog's leash training. Download this free sample Service Dog Training Log, provided by Service Dog Certifications, to get started. |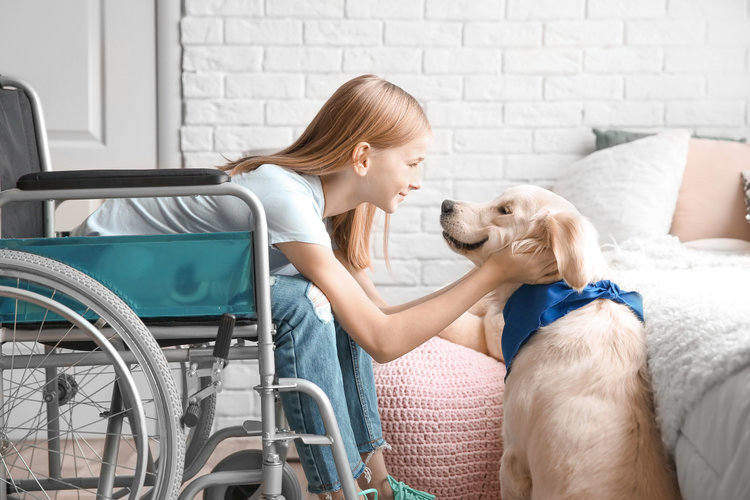 Florida Statute 413.08
Florida Statute 413.08 is the Florida law that protects service animal owners and gives service dogs special public access rights. The law is similar to the privileges granted to service dog owners under the federal Americans with Disabilities Act.
One notable difference between federal law and Florida is that in Florida, service dogs in training have public access rights. In most other states, service dogs only have public access rights once their dog is fully trained.
However, the Florida statute allows for handlers with a service dog in training to have the same rights as people who already have a fully trained service dog: "Any trainer of a service animal, while engaged in the training of such an animal, has the same rights and privileges with respect to access to public facilities…."
In Florida, it is a misdemeanor to interfere with the rights of a service dog owner or service dog trainer. Pet owners should note that falsely representing an animal as a service dog is also punishable under this statute.
Florida Service Dog News
Rescue 22 is a program for veterans, in partnership with the University of California, that trains and places service dogs with veterans free of charge. The Rescue 22 project attempts to match their service dog training very closely with the needs, household situation, and lifestyle of the individual veteran.
Rescue 22 obtains their dogs from shelters, rescues, and surrenders. Many veterans rely on service dogs to help with physical and mental health conditions, and Rescue 22 provides this invaluable service to the heroes.
Latest Posts
What Are the Best Types of Service Dogs for Seniors?
Many seniors have mobility or other issues that could benefit from having a service dog for specific assistance. But not everyone knows there are different service dogs that help people with different challenges. Each type of service dog has a specific purpose. Here are some of the most common types of service dogs for seniors: […]

How to Get a Service Dog for Anxiety
Research into the human-dog bond confirms how humans benefit from the relationship. Service dogs used to help with mental health conditions are also known as psychiatric service dogs (PSD) and utilize this human-dog bond. PSDs help fulfill tasks that individuals with severe anxiety would generally feel too overwhelmed to perform or can provide actions to […]

Service Dog Training Tip – Walking on a Leash
Have you ever asked yourself, 'How do I get my dog to stop pulling on the leash'? You are not alone. This is a common question. You may have noticed other dogs walking calmly beside their handler while your dog tugs impatiently on the leash. In this article, we'll show you how to teach your […]