Home Page › Blog › How to Register Your Dog as a Service Dog
How to Register Your Dog as a Service Dog
A service dog can significantly improve a person's quality of life. Not only do they fulfill specific tasks for individuals with physical or mental disabilities, they also provide companionship and security. A service dog's presence can be the difference between a safe and a dangerous environment. That's why registering a service dog may be the best option to ensure these essential animals can do their jobs. The following are guidelines to help you register your service dog.
Determine Your Need for a Service Dog
First, decide if a service dog is right for you. People who require service dogs typically have a diagnosed physical or mental disability, such as difficulty walking, a debilitating chronic illness, or psychological disorder. The Americans with Disabilities Act (ADA) defines a person with a disability as:
"[…] a person who has a physical or mental impairment that substantially limits one or more major life activities, a person who has a history or record of such an impairment, or a person who is perceived by others as having such an impairment."
However, the ADA does not go into detail as to which impairments are explicitly covered. If you have a physical or mental impairment and feel that a specially trained dog could help accomplish a particular life activity, a service dog may benefit you.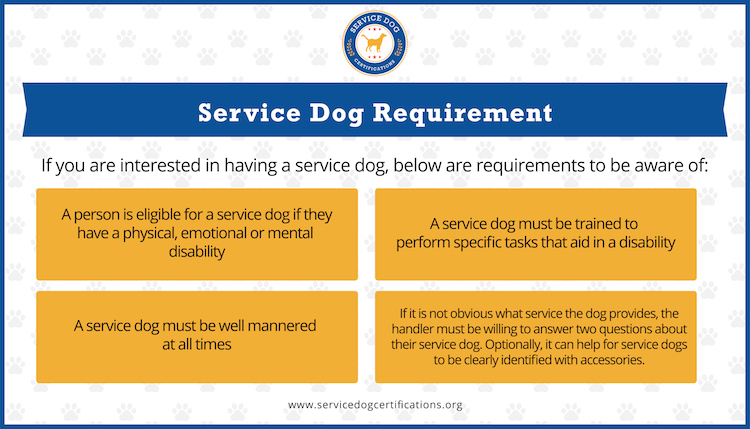 Choose the Breed that Fits Your Need
When looking for a service dog, choose a dog that can perform your required task(s) well and safely. For instance, if you'd need a service dog to assist you with remaining upright when walking, then a 15-pound chihuahua may not be the best choice for you. As adorable as a particular dog breed may be, that type of breed may not meet your needs.
Choose a breed that can complete the job rather than one you find most appealing.
Train Your Dog for Your Disability
There are a variety of ways to train your service dog:
You can purchase a dog that has already received training to meet your type of needs.
You select a dog and then find a professional dog trainer to do the training.
The most cost-effective—but most involved—choice is to train your service dog yourself.
Once trained, it may be time to register your service dog.
Register Your Service Dog
Traveling or going out in public with your service dog can lead to fewer problems if they're registered. Other people are more likely to trust a service dog who is registered and certified. Registering your service dog includes their information into a comprehensive database and provides information on your dog's status without having you divulge private medical information to strangers. Registering your dog is a quick and easy process that can save you from obstacles when out in public places.
How to Register Your Dog as a Service Dog
Input the name of the service dog handler. The handler would be the name of the person who the dog performs tasks for and answers to. The handler also provides care for the dog, such as grooming, feeding, and toileting.
Input the name of your service dog. This name would be the name a service dog typically responds to.
Provide your email address. Some sites may need you to verify your email address afterward.
Upload a picture of your service dog. Choose a photo that is clear and provides an accurate representation of your dog.
Select the format of the registration. Include the registration as a paper certificate, collar tags, leash covers, and other tools.

Why Should I Register My Dog as a Service Dog?
Although the ADA doesn't make certification or registration of a service dog mandatory, it's still good practice. Despite having protection under the ADA, the public may not understand the rights of service dogs and their handlers. Due to the recent rash of fraudulent service and therapy dogs, the public may be wary of allowing legitimate service dogs into their establishments. By registering your service dog, you can provide immediate notice of its status—bypassing any disagreements.
Registering your service dog maintains your privacy. Because you can provide immediate and tangible information of your service dog's status, others are less likely to question your dog's presence. Registration allows you—and your service dog—to go about your daily tasks with less interruption and discussions. Your disability, and your dog's services, can remain your own business.
Service Dogs and Public Trust
Fraudulent service and therapy dog claims erode the public's trust in legitimate service dogs. Registration re-builds the public's trust and, in the end, allows service dogs to do their jobs in peace.

Latest Posts
How ESAs Help Seniors in Assisted Care Living Facilities
There's something about a wagging tail and a furry face that lights up the atmosphere and brings people together. Dogs and cats can brighten up a room. But, perhaps more importantly, they can heal. This healing factor is why emotional support animals can help seniors in assisted living facilities. What is an Emotional Support Animal? […]

Can I Take a Service Dog to College?
Service dogs are not just for the visually or hearing impaired individual. Service dogs have lent a helping paw to individuals with a broader range of physical and psychological conditions. But what if you are a student and need a service dog? Will colleges allow dogs on campus and into the classroom? Read on for […]

Service Dogs for Mobility Issues
For people with mobility issues, a service dog can provide life-changing help. This assistance animal will help with daily tasks, like retrieving items, helping with balance, or opening doors in public places that would otherwise be of great difficulty for people with mobility issues. A service dog that is specialized in mobility issues suffered by […]