Annie R.
18 October, 2013
We can take our Buford everywhere we go without being harassed anymore. The identification cards help us resolve any issues before it becomes an issue. Thanks!!!
Latest Posts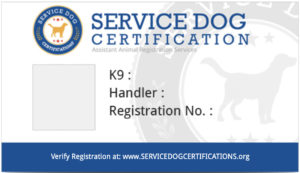 Service Dog Registration Guide
Service dogs are an amazing medical tool and are often underutilized due to a confusion in Service Dog regulations. We will go through what a service dog is, who can qualify to have a service dog, where you are allowed to take your service dog, and the benefits of completing your service dog registration. If […]

Disabilities that Qualify you for a Service Dog
If you have a physical, emotional, or mental disorder, then you will most likely qualify for a service dog. Below are the laws and a list of mental, emotional, and physical disabilities that may qualify you for a service dog.

Can a Landlord Reject a Service Dog or ESA Based on Breed?
Why are there issues with dog breeds and housing? According to an article published by NIMH, younger adults tend to believe that landlords and property managers discriminate against their animals, specifically if they have large dogs or dogs of a specific breed. Many would also speak of how properties that did accept pets would be […]