Home Page › Blog › Service Dog ID Card
Service Dog ID Card
Having a Service Dog ID card can be the single most useful tool you have, aside from your actual Service Dog. Service Dogs are granted public access rights so you may encounter more hostility and confusion than Emotional Support Animals or Therapy Animals since their presence is often expected.
Benefits of having a Service Dog ID card –
1. Having a Service Dog ID card allows you to travel with confidence
Service Dogs exist to allow you to live a normal life, even if you have an emotional, mental, or physical disability. However, due to the cultural perceptions that Americans have around dogs in public spaces, your Service Dog might be mistaken for a pet. This can be unnecessarily stressful for some and can prevent people from leaving their homes and using their Service Dog effectively.
By having a Service Dog ID card with you, you can feel confident that no matter what circumstance you run into, you can request public access with ease.
2. Showing your Service Dog ID card empowers employees to grant you public access
Unfortunately, every employee is not well trained in Service Dog access rights. There are some employees that may be afraid to grant you access because of their "no-animal" policies. They don't want to permit access because they may be afraid of getting in trouble for allowing an animal. This is a reasonable fear if they or their immediate supervisor is not well versed in Service Dog regulations.
If you have your Service Dog ID card, it is even helpful for the employees of:
Restaurants
Movie theaters
Retail stores
Mall security
Beach life guards
Park rangers
If you are able to show them your Service Dog ID card and identify what task your Service Dog provides to you, they will be able to show their supervisors or anyone else who asks why they granted your Service Dog access.

3. Sharing your Service Dog ID card helps educate the public on Service Dog rights
Having your Service Dog ID card handy may also help you engage and educate others about Service Dog rights. If you have ever entered a public space that does not permit pets, such as an airport, you will likely be asked why your dog is allowed in. You should never feel pressured to engage in conversations about your Service Dog if you are not comfortable.
If you are interested in sharing your experience, you can share your Service Dog ID card with them and explain how your Service Dog helps you and why they are allowed to join you in places where pets are normally not allowed.
4. Digitally access your Service Dog ID card on your phone at anytime
By registering your Service Dog, you will also have digital access to your Service Dog ID card at all times. The Service Dog registration number can be found on your card. You can keep the number handy on your phone so you may access the database at all times, in the case where you leave your ID card at home or if you do not have your wallet.
In some cases, some places may even ask for this ahead of time. Hotels may request this information so it will be convenient for you to send them a link to access the Service Dog Certification Database and provide them with your service dog registration number.
5. Document the date you registered your Service Dog for your protection
This is rarely needed, but its better to be safe than sorry. If you are moving and need to request access to a new building, you may run into issues with a new landlord. It may be better to have evidence to show them that you have had your Service Dog registered even before your request for access. Unfortunately, landlords make a lot of money in pet fees so they will be reluctant to grant your Service Dog access since Service Dogs are exempt from paying any additional pet deposits or monthly pet fees.
Your Service Dog also has access to "no-pet" buildings so your landlord may feel more comfortable granting access if they can see that you've had your service dog for months or years before moving into their building.
The ADA does not require that you order a Service Dog ID card and allows you to decide what is best for you and your situation. If you would like to have the ease and peace of mind, we recommend registering your Service Dog for a Service Dog ID Card.
If you are interested in making your dog your Service Dog, the link below provide a comprehensive guide to registering your Service Dog.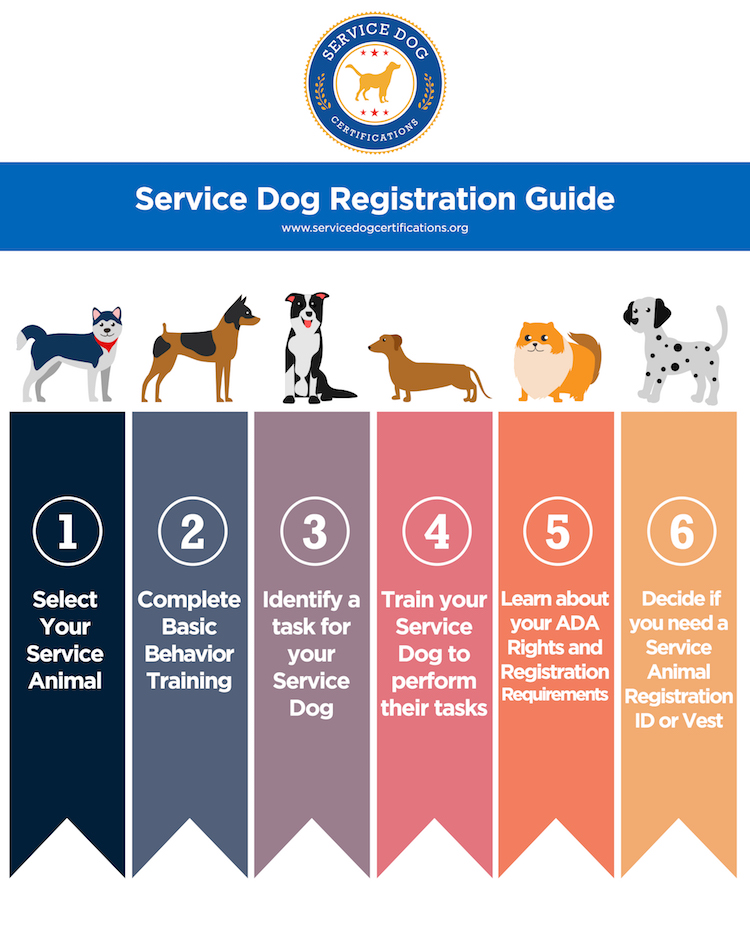 Latest Posts
How ESAs Help Seniors in Assisted Care Living Facilities
There's something about a wagging tail and a furry face that lights up the atmosphere and brings people together. Dogs and cats can brighten up a room. But, perhaps more importantly, they can heal. This healing factor is why emotional support animals can help seniors in assisted living facilities. What is an Emotional Support Animal? […]

Can I Take a Service Dog to College?
Service dogs are not just for the visually or hearing impaired individual. Service dogs have lent a helping paw to individuals with a broader range of physical and psychological conditions. But what if you are a student and need a service dog? Will colleges allow dogs on campus and into the classroom? Read on for […]

Service Dogs for Mobility Issues
For people with mobility issues, a service dog can provide life-changing help. This assistance animal will help with daily tasks, like retrieving items, helping with balance, or opening doors in public places that would otherwise be of great difficulty for people with mobility issues. A service dog that is specialized in mobility issues suffered by […]