Home Page › Blog › California Service Dog Requirements
California Service Dog Requirements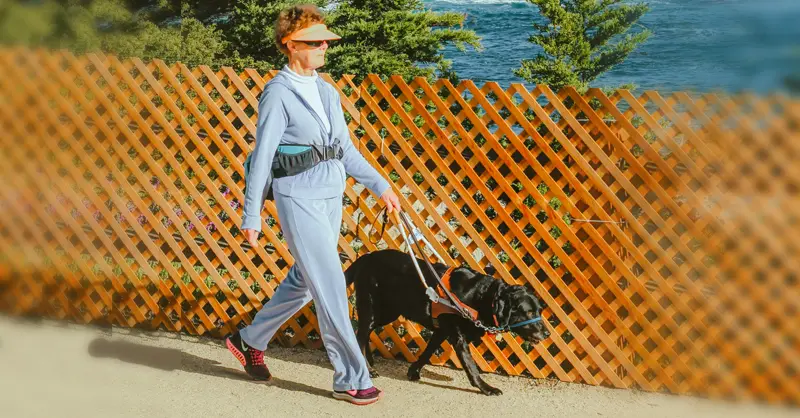 California law allows for people with disabilities to live, travel, and go about their daily lives in the presence of a service dog. Service dogs are afforded certain rights in the State of California that cannot be denied due to local laws and regulations.
If you have a disability that requires the help of a Service Dog, you are (under Federal law) entitled to such an animal.
Read on for more information on California Service Dog requirements and regulations.
Definition of a Service Dog
A Service Dog is any canine that is trained to perform a disability-specific task for the person who has a medical, physical, psychiatric, or mental disability. Miniature horses are also recognized as a "service animal" in California as long as it is being used for a disability-related task.
Although service dogs are protected under the Americans with Disabilities Act (ADA), similar protections do not apply to Psychiatric Service or Emotional Support Dogs, unless you live in San Francisco. This city allows both service dogs and emotional support animals at any building, program, or agency of the City and County of San Francisco and its contractors.
How is the Service Dog Trained?
For your dog to be considered a legitimate Service Dog, it must be trained to perform a task for you that you cannot do for yourself. This can include opening doors, alerting, guiding, or pulling a wheelchair.
Dogs can be trained by the person with the disability, a professional canine trainer, or a friend or family member (as long as the dog is obedience and task-specifically trained).
Identification Requirements for Service Dogs in California
It is not mandatory in California to have an identification tag or vest on your Service Dog. However, it is highly recommended. To obtain an identification tag, your Service Dog must meet certain explicit requirements (in training) to be considered legitimate. A service dog must provide a service to a person with a disability in order to qualify as a service animal. Once you have fulfilled all requirements, you and your service animal will be protected under state law.
Service Dog Registration in California
Please note that service dog registration is not required by law, but instead can assist in identifying your dog as a service dog. Service dog registration can provide privacy and protection from unnecessary harassment from uninformed individuals.
Psychiatric Service Dog Requirements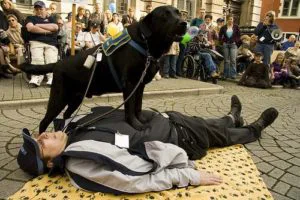 California is one of the states in which a dog can be trained to perform tasks that will benefit a person with a psychiatric disability. A psychiatric disability is a "mental impairment that substantially limits one or more of the major life activities of an individual".
A trained dog that performs a task for their owner is considered a "Psychiatric Service Dog" and must perform tasks that are identifiable and directly related to an individual's diagnosed psychiatric disability. The dog's trainer or handler is required to teach that animal to recognize and respond to the unique needs of the person with the disability.
California considers the following as psychiatric disabilities:
Eating Disorders
Post- Traumatic Stress Disorder
Anxiety Disorders
Depression
Obsessive-Compulsive Disorders
Personality Disorders
Schizophrenia and Schizoaffective Disorder
Substance Abuse
Psychiatric service dogs can be trained to alert their owner by performing the following tasks:
Deep pressure therapy
Reminding the owner to take medication
Posting and watching the owner's back in open areas
Tactile stimulation
Alerting the owner
Waking up the owner
And More
Service Dog or Emotional Support Dog in California
People using Service Dogs in this state must have their canine on a leash or harness and should have an official identification tag. Even though California does not limit the dog's size or breed, the animal's handler is liable for any damage done by the service animal. There are also no specific legal requirements in existence as to how much or what type of work a service dog must provide to benefit the disabled person, but a dog that is just a friend (or a pet) is not considered a Service Animal.
If your dog is not specially trained to provide a service for your disability, it may still qualify as an emotional support dog. Emotional support animals do not have the same level of access as service animals, but they are recognized as assistance animals. Emotional support dogs can live and travel with their owners without having to pay additional pet fees. Emotional support animals provide support and comfort to owners that suffer from depression, anxiety, PTSD, etc.
Qualify for an emotional support dog letter by completing the online questionnaire below.
You and Your Service Dog in California
Once you have your Service Dog trained, you are allowed by Federal law to bring your Service Canine with you in all areas where the general public is allowed. Since California's law has a broader definition of public accommodations, the state requires "reasonable modifications to be carried out at any place "to which the general public is invited."
This means that Service Dogs are also allowed legally on all types of public transportation, including buses, planes, and trains. You can also be asked whether the animal is a service animal, and what it is trained to do.
If you think you could benefit from the help of a Service Dog, then ask your medical professional for their opinion. Whether you train your dog yourself or enlist the help of a professional, a family member or a friend, know that your dog must be trained to perform a task you cannot do for yourself.

Latest Posts
How ESAs Help Seniors in Assisted Care Living Facilities
There's something about a wagging tail and a furry face that lights up the atmosphere and brings people together. Dogs and cats can brighten up a room. But, perhaps more importantly, they can heal. This healing factor is why emotional support animals can help seniors in assisted living facilities. What is an Emotional Support Animal? […]

Can I Take a Service Dog to College?
Service dogs are not just for the visually or hearing impaired individual. Service dogs have lent a helping paw to individuals with a broader range of physical and psychological conditions. But what if you are a student and need a service dog? Will colleges allow dogs on campus and into the classroom? Read on for […]

Service Dogs for Mobility Issues
For people with mobility issues, a service dog can provide life-changing help. This assistance animal will help with daily tasks, like retrieving items, helping with balance, or opening doors in public places that would otherwise be of great difficulty for people with mobility issues. A service dog that is specialized in mobility issues suffered by […]