Home Page › Blog › How to Train a Service Dog for Anxiety – 6 Important Steps
How to Train a Service Dog for Anxiety – 6 Important Steps
We've probably all seen a service dog helping to guide a person that is physically challenged but did you know you can also have a service dog if you suffer from anxiety?
Dogs can be especially helpful to those that suffer from any number of mental or emotional issues such as PTSD or social anxiety. However, unlike a service dog that has been trained by professionals to work with their owner, you can train your own dog to help you cope with your emotional trauma. Here are some basic steps on how to train a service dog for anxiety.
Step #1 – Choosing the Right Service Dog
It is highly recommended to start out with the right breed for being a service dog. Some canines just do not exhibit the right temperament to do this important and demanding job.
To ensure you are getting a pup that can be trained for service, it's advised to look to those reputable breeders that are raising dogs for this specific purpose. You can also find great service dog candidates at your local shelters too!
According to Psychiatric Service Dog Partners when choosing a puppy for service work, look for these qualities;
Social – quick to greet
Does not startle easily
Follows
Eager to be held
Alert
Step #2 – Determine the Service Dog's Job 
Once you have your puppy you must determine what you will need the dog to do for you in order to guide its training. Once this is established you can begin bonding with your puppy. This helps create a baseline for your dog to recognize when you are in a relaxed state and when you are beginning to experience anxiety – dogs are very intuitive so the right dog will pick up on this naturally.
Step #3 – Develop Socialization Skills
Reputable breeders will have already started the socialization process with their puppies. This means the puppy has been handled extensively, been introduced to new people and new situations as well as being taken outside of the home.
When you get your puppy, it's important that you keep up the socialization. The last thing you want is a dog that is frightened or stressed each time it encounters something new.
Step #4 – Start Basic Training Skills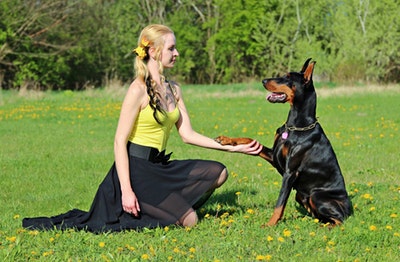 All dogs should have the basics of training and good behavior, but it is doubly important if you plan to bring your dog with you into public areas. These skills include;
Sit
Stay
Drop
Heel
Leave
Come
If you feel you cannot teach your canine companion the basic obedience skills needed, then enlist the help of a professional trainer. These people have the knowledge to, not only teach your dog, but also teach you how to continue the training outside of the weekly sessions.
Step #5 – Fine Tune Public Access Skills
Once your service dog-in-training has mastered his/her basic commands, then you can begin to work on public access skills. Use those pet-friendly areas like retail pet stores, outdoor cafes etc. to help your dog become accustomed to the hustle and bustle of public places.
Step #6 – Individual Response Training
It may be difficult to train a dog to alert a person before a panic attack, but with a close bond, your dog may pick up on your different body language and, if you are completely fear-stricken, the chemical changes in your body.
Some people who suffer from anxiety and stress have reported that giving the puppy/dog a treat when they are experiencing the symptoms is a helpful way to teach your dog to respond; however, not everyone is capable of this type of action when in the midst of anxiety, stress or fear.
Cuddling your dog close when you feel stressed is not only a great way to help bring relief to you, but will also allow the dog the chance to pick up on your "tell" signs. This is why it is crucial to find the right breed and/or temperament of your canine service dog.
Training a Service Dog for Anxiety
When training a service dog for anxiety you will have to have patience and persistence, especially with puppies. Begin with the basic training skills and socialization, then work your dog up for public access. Having a dog that helps with severe anxiety, PTSD, panic attacks and so on is a therapeutic way to get your life back on track.

Latest Posts
How ESAs Help Seniors in Assisted Care Living Facilities
There's something about a wagging tail and a furry face that lights up the atmosphere and brings people together. Dogs and cats can brighten up a room. But, perhaps more importantly, they can heal. This healing factor is why emotional support animals can help seniors in assisted living facilities. What is an Emotional Support Animal? […]

Can I Take a Service Dog to College?
Service dogs are not just for the visually or hearing impaired individual. Service dogs have lent a helping paw to individuals with a broader range of physical and psychological conditions. But what if you are a student and need a service dog? Will colleges allow dogs on campus and into the classroom? Read on for […]

Service Dogs for Mobility Issues
For people with mobility issues, a service dog can provide life-changing help. This assistance animal will help with daily tasks, like retrieving items, helping with balance, or opening doors in public places that would otherwise be of great difficulty for people with mobility issues. A service dog that is specialized in mobility issues suffered by […]