Home Page › Blog › Can a Service Dog be Taken to School?
Can a Service Dog be Taken to School?
A disability doesn't end at the doors of a school. For the most part, a school may be where a child or young adult learns to navigate the world with their disability. Because service dogs are part of how a person manages their disability, a service dog must be involved in a child or young adult's development and can indeed accompany their owner to school.
Show everyone that the rights of your service dog should be respected. Get your service dog registered below.

What are Service Dogs?
According to the Americans with Disabilities Act (ADA), a service dog is a service animal trained to take on a task for a person with a disability. The task that the dog performs has to be related directly to the person's disability. This task is often something the person can not achieve on their own and necessary for safety or daily life.
For example, some dogs receive training to detect impending seizures in a person with epilepsy. Others can identify low blood sugar in diabetic patients. Service dogs are vital to the mental and physical well-being of the person they serve and are covered by federal law.
Service dogs are similar to but different from emotional support animals (ESA) and therapy animals. Service dogs are specifically trained for a person's disability and perform vital tasks that can not be executed by the person they serve. Service dogs are not pets. They are a medical tool to help their owners overcome the hardships of the disability.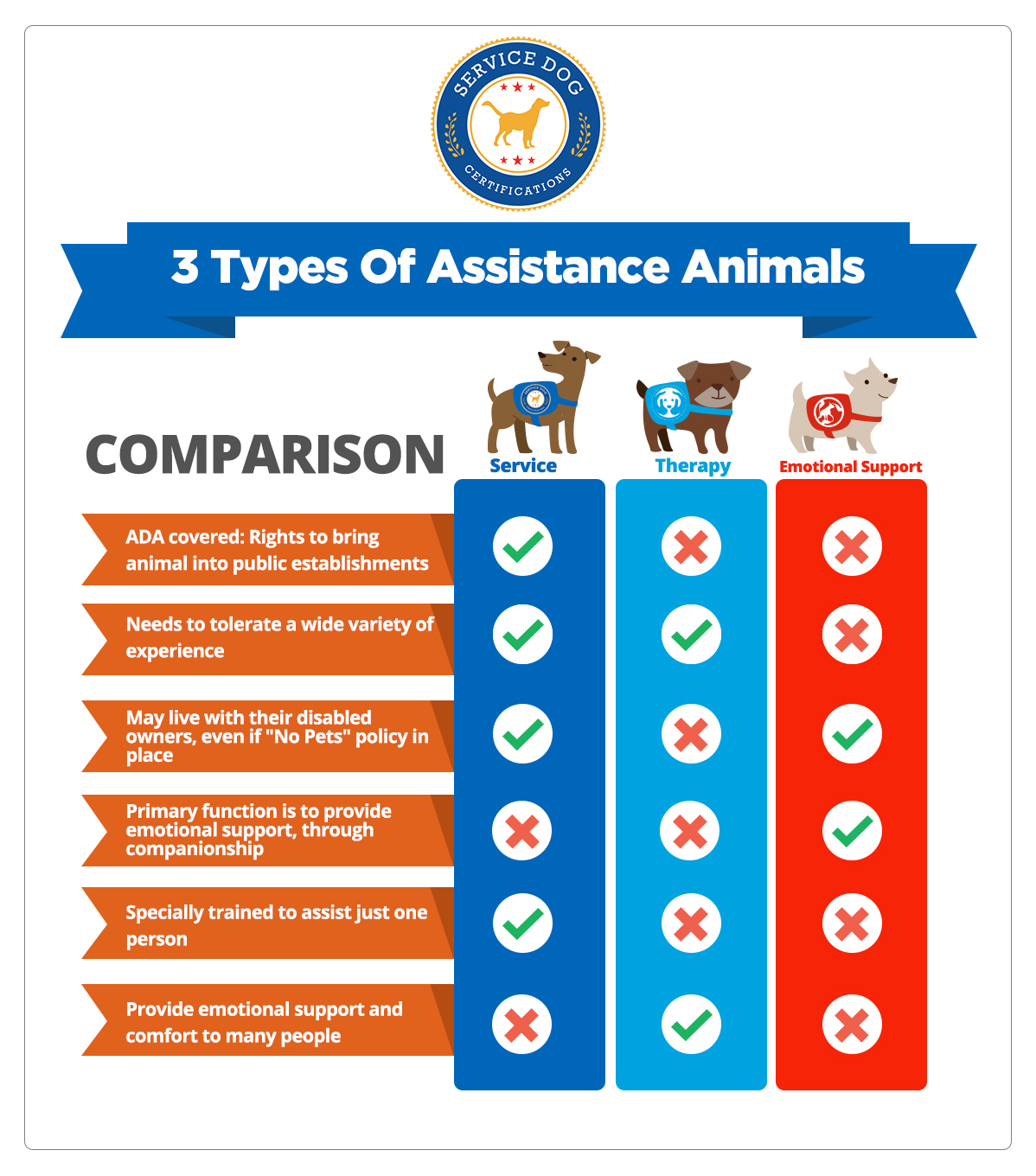 What are Their Rights?
Because service dogs are crucial to their owners' well-being and quality of life, they fall under federal law. They are allowed to go wherever their owner goes, whether it be a business, a public park, or a school.
Service Dog in Primary and Secondary School
Two federal laws apply directly to service dogs' presence for students with disabilities in public schools:
Title II of the Americans with Disabilities Act (ADA)
Title II of the ADA is broad and allows for civil protections for all individuals with disabilities. The law does not allow any discrimination by federal, state, and local governments. This law includes all public schools.
Section 504 of the Rehabilitation Act
Section 504 does not allow discrimination against people with a disability in programs that receive federal funds, including public schools.
These two federal laws permit a student with a disability to use a service dog in schools. These students cannot receive unfavorable treatment or be charged fees that are not the same as those for students without service dogs. These students are not allowed to be isolated or set apart from others because of their service dog. The fear of a dog or allergies is not sufficient reason to deny a service dog's presence within a school, but the school may offer the use of other locations when possible.
In short, service dogs are allowed in universities and K-12 grade public school campuses for students with disabilities. Students with service dogs can't be penalized in any way for having a service dog. However, the care and grooming of the service dog should be determined beforehand, especially in the case of small children. 
Service Dogs in College
Individuals with a disability may use a service animal on their campus and in their dorms. The Fair Housing Act covers both service animals and emotional support animals in housing areas and dormitories. However, only service animals remain covered under the ADA regarding other areas of the campus. The ADA allows service animals into classrooms and other university facilities.
However, it's important to remember that the person with the disability has the responsibility for the care and grooming of the dog. Also, the dog can't be dangerous or disruptive and must be under the owner's control at all times.
Service Dogs and Students
A service dog offers a person with a disability the freedom to participate in the world around them. Taking away a service dog deprives a child, adolescent, or young adult the ability to foster their independence and achieve their goals more fully. A service dog is not a pet, but an extension of a youth's mastery over their disability.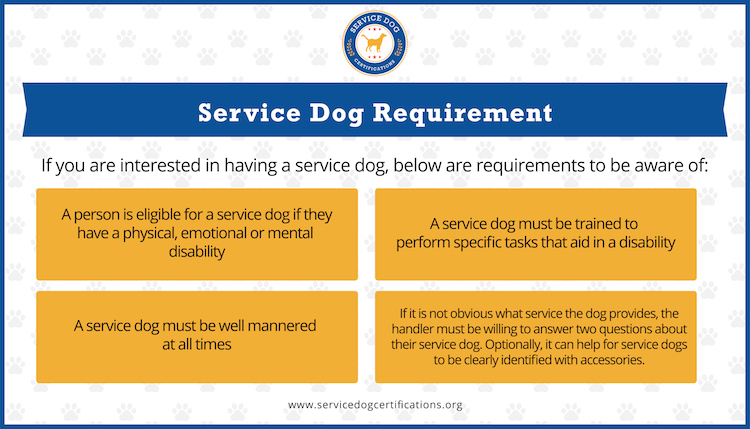 Service Dog as Part of the Education
Learning to live with their disability requires a service dog's assistance, and learning to live with their disability is part of why they are in school. Allowing the full use of their rights enables students to empower and educate themselves in a supportive environment. Through a well-rounded education and life experience, children and young adults with disabilities can grow into productive adults. Federal laws recognize this need, and schools must abide by them, for the benefit of all.
Latest Posts
How ESAs Help Seniors in Assisted Care Living Facilities
There's something about a wagging tail and a furry face that lights up the atmosphere and brings people together. Dogs and cats can brighten up a room. But, perhaps more importantly, they can heal. This healing factor is why emotional support animals can help seniors in assisted living facilities. What is an Emotional Support Animal? […]

Can I Take a Service Dog to College?
Service dogs are not just for the visually or hearing impaired individual. Service dogs have lent a helping paw to individuals with a broader range of physical and psychological conditions. But what if you are a student and need a service dog? Will colleges allow dogs on campus and into the classroom? Read on for […]

Service Dogs for Mobility Issues
For people with mobility issues, a service dog can provide life-changing help. This assistance animal will help with daily tasks, like retrieving items, helping with balance, or opening doors in public places that would otherwise be of great difficulty for people with mobility issues. A service dog that is specialized in mobility issues suffered by […]