Archive for the 'Travel' Category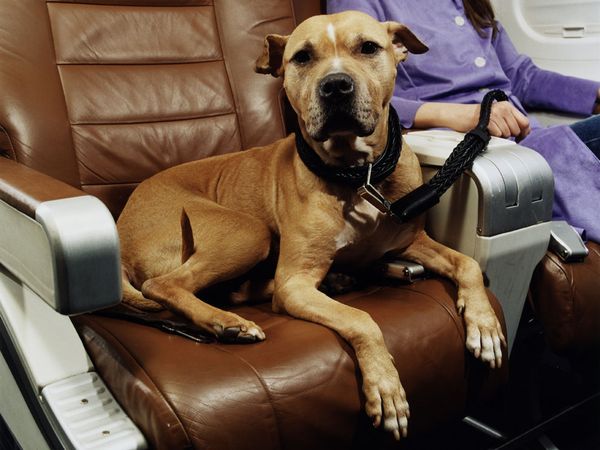 May 07
Dogs might have a troubling experience taking their first flight as they are only used to enjoying car rides, but being on a flight is a whole new story. It is important to be aware of the Airline Pet Policy, the Pet Travel in the US restrictions and other restriction on International Pet Travel before taking your dog on a flight. Follow the ten tips below to ease your travel with your dog:
Book beforehand: It is essential to book the ticket for your dog early because not more than one or two dogs are allowed on a flight. Also, before purchasing the ticket, make sure when you call the airline, there is a seat available for your dog. If the seat is available, book the same ticket for your dog and yourself on the phone call. Book a non-stop flight: It is better to take that flight which is direct, and flying on a weekday is also a good choice. This is because airports are less busy on weekdays. Fly in the morning or evening in the summer, and midday during winter when your dog is travelling in the cargo hold, in order to avoid harsh weather conditions. Check with the Vet: Get your dog checked with the veterinarian and keep the vaccinations Make sure you get a health certificate from your vet 10 days before you leave. If you plan to travel outside of US, take care of the international health care requirements. Get a dog carrier: There are a variety of carriers available to match each type of dog. The carriers can be either hard-sided or soft-sided, but soft-sided carriers are convenient to carry and can easily be put under the seat. The downside is that this is allowed only in the cabin. Go through the Airline Pet Policies size restrictions to check if your carrier will fit under the seat. Buy a hard plastic carrier with holes for the purpose of ventilation if your pet is travelling in the cargo hold. There must be enough space in the carrier for the dog to stand, lie down and move around with ease. The airline will reject transport if the carrier lacks all of this. Give your dog identity: Put the name of the dog along with the address and phone number on the carrier. Also, write the address and phone number of the person who could be contacted at the place where you are going. Keep a photo of your dog with yourself in case he gets lost, you will really need the picture to show to the airline employees or the local authorities. What is even better is to use some permanent form of identity like a microchip or tattoo to help others identify your dog. Help your dog get comfy with the new carrier: Take your pet for trips around town in his new carrier, weeks before travelling. Dogs are less stressed while travelling when they are familiar with their carrier. Feeding your dog: It is always recommended to feed the dog around 4 hours before the flight because he might feel uncomfortable with a full stomach during the flight. However, giving water to the dog is okay even right before the flight. Don't take the dishes out of the carrier so that the airline can put in food or water in case the flight gets delayed. Take your dog out for exercise and excretion before leaving for the airport. Reach the airport early: Try to get to the airport early and bring your dog's health certificate along. With a pet, airlines don't allow checking in more than 4 hours before the flight. Usually, airlines permit arriving only 2 hours before time of the flight. Those people who bring along their pets are required to check-in at the counter and curbside. Self service check-in is not permitted. Don't sedate your dog: It is okay for those who get nervous during the flight to take valium before flying, however the same can't be done with the dogs. Dogs should not be given sedatives because they cause respiratory and cardiovascular issues for the dogs. They are more vulnerable to the pressure caused by high altitudes and taking such drugs can create a hindrance in their natural ability to manage stability or equilibrium, so when the carrier is moved, the dog is exposed to a lot of danger. However, it is advised that you should contact your vet regarding this. If he or she allows sedation and considers it necessary, then write the name of the drug and its prescribed dosage on the carrier. Once you're there: After reaching your destination, take your dog on a walk before heading to your hotel. This will help the dog get familiarized with the new environment and understand that things will be the same even at this new place. This way when you enter your hotel, your dog will feel at home and will be ready for what you have planned for the week.
Items to pack:
Keep in mind to pack the following things for your dog : health certificate, medical records, comb, brush, products for flea control, an extra collar with id tags, paper towels, stain remover, the usual bottled water, leash, poop bags, a toy and a blanket, your dog veterinarian's contact information, contact info of your destination in case of an emergency, emergency medicines, pet wipes, sufficient dog food for the trip, dishes for food and water and a list of all those restaurants and attraction sites at your destination that might interest your dog.
Are you a fan of both animals and travelling? If you're headed for England, the best of both worlds are yours. You can be sure that pet-friendly amenities all over England that will keep both you and your pooch entertained – but before we deal with the details of the vacation itself, let's first discuss the measures you'll have to take to fly Fido out of the U.S., and into the U.K.!
Requirements for Pets
There are strict guidelines you'll need to follow to ensure that your dog is fit for travelling. Because the United States is an unlisted country (it's not part of the EU), there are a few more entry requirements you'll have to make sure your pet has. Among these requirements are a health certificate, a rabies vaccination, a microchip, a blood test taken 30 days after vaccination, and treatment for tapeworm – if your pet is a dog.
After that blood test is taken, you'll need to wait another 3 months before travelling to make sure that the rabies vaccination works; your USDA accredited vet will give you a copy of the test results. You're allowed a maximum of 5 pets to bring, but there are some exceptions to the rule, like if you're bringing these pets for a pet show. You'll need to show them registration to prove this.
Service Dogs in England 
While the same rules apply for assistance dogs than they do for regular pets to travel, assistance dogs get a few more perks; they can travel along routes and in places other dogs can't. For example, instead of being locked up in a kennel, they'll be able to assist the person in need in the aircraft cabin.
England does recognize service dogs, and they should not be a problem to bring around with you wherever you go. Take note, though, they are referred to as "assistance dogs" over there!
Pet Friendly Places
As long as your dog is well-behaved and on a lead (that's what they call a leash in the U.K.), England is mostly a very dog-friendly area. They have hotels that will willingly accommodate both pet and owner, as well as hotels that serve just your pup! Pen-y-Dyffryn is a multiple award-winning hotel in Shropshire that allows pets with you in their rooms, while ensuring you have a comfortable, luxurious stay. Sandybrook County Park in Derbyshire also lets you bring your dogs with you everywhere, and provides plenty of woodland where you can bring them for nice, long walks.
If you want to leave your dog for a while and have a night out at a place that isn't so pet-friendly, try out the The Grove: Luxury Dog Boarding in Whittington, where you can leave your dog overnight to be taken cared of, and have a pampering, delightful stay.
In London, the Brick Lane Coffee lets you have your dose of fair trade coffee, while letting your dogs in as well! For some drinks at the Pub, Star & Anchor allows you to unwind with beverage in hand and a happy dog beside you. With England being such a great place to bond with your dog, there are far too many places to name that are pet-friendly! Fancy to visit a certain place and just need to bring your pup? Don't be shy to phone them and ask!
[Editor's Note: Please be aware that this material does not serve as legal advice. As with all blog content discussing legalities, be sure to consult Federal and State laws specific to your area before implementing any of this advice into your practices.]