Home Page › Blog › How Dogs Can Calm Anxiety
How Dogs Can Calm Anxiety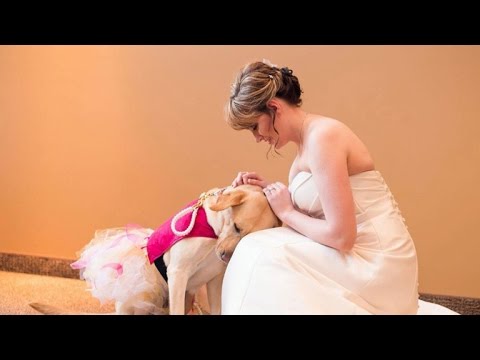 A person suffering from anxiety attacks experience many risks, and it's one of the reasons why it's prudent to consider having a service dog or emotional support animal as a companion. The animal can keep the environment safer for the individual and below are some of the ways a dogs can calm anxiety:
1) Dogs can predict panic attacks
Because of their acute senses, dogs can recognize that a person is about to experience a panic or anxiety attack. If a service dog is well-trained, it can intervene in the situation before any untoward incident happens. The pet will nudge or bark at his handler or owner even before the attacks happen, and they will not stop unless the handler listens.
2) Dogs have a calming and relaxing presence.
Even the ones that aren't trained to be service dogs draw the same calming effect. A study has determined that a dog's presence has some sort of healing effect. A person's heart rate and blood pressure lowers whenever they are around dogs to either touch or keep the company.
Another study revealed that dogs can unleash happy hormones in a person, thus reducing stress levels that could trigger anxiety.
3) Dogs ground you during an anxiety attack.
A person experiencing bouts of anxiety attacks could temporary lose focus as panic sets in, but a service dog will keep him grounded, so that he can get a grip of his situation. Some service dogs are trained to facilitate deep pressure therapy, where the dogs can settle their body on the person's chest to help him calm him down. Certain panic attacks can put the person at risk of hurting himself or damaging property, when this can be avoided or reduced with the dog's presence.
4) Dogs alert your loved-one or other humans.
If a person is having an attack, a well-trained service dog can let another human know so that the matter can immediately be given attention. They can look for that person for help, or they can also be relied upon to find their master's phone so that he can call for help.
Latest Posts
Can You Get a Grant for a Service Dog?
Dogs are helping humans in many ways. For individuals with disabilities, dogs can perform tasks to assist them with daily tasks the handler could not do by themselves. These service dogs can greatly improve their owner's life or even perform life-saving tasks. However, a good service dog comes with a cost. In this article, we'll […]

How to Get a Psychiatric Service Dog in Florida
If you suffer from anxiety, PTSD, depression, or other psychiatric disabilities, experts say a service dog could help. We all know that pups make us happier with their tail wags and slobbery kisses, but they can also be trained to carry out tasks that make everyday life easier—or perform life-saving tasks when we need them […]

How To Qualify for an Emotional Support Animal for Depression and Anxiety
Anyone who has a beloved animal in their life understands how pets can lift spirits and reduce loneliness. The Human-Animal Bond Research Institute (HABRI) states that 80% of pet owners attribute their reduced feelings of loneliness to their pets. The effect pets have on their owners makes an emotional support animal (ESA) vital to people […]