Home Page › Blog › How to fly with your dog
How to fly with your dog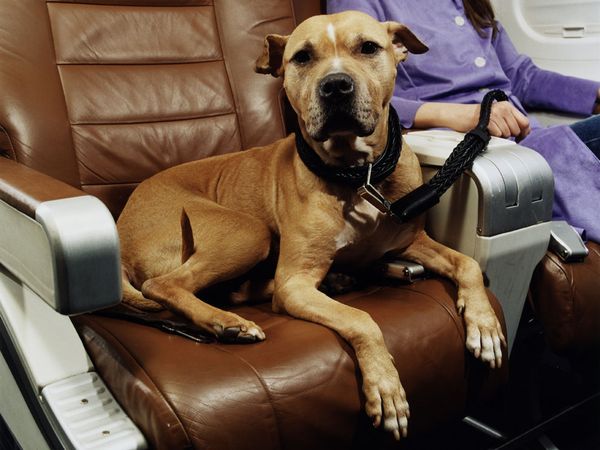 Dogs might have a troubling experience taking their first flight as they are only used to enjoying car rides, but being on a flight is a whole new story. It is important to be aware of the Airline Pet Policy, the Pet Travel in the US restrictions and other restriction on International Pet Travel before taking your dog on a flight. Follow the ten tips below to ease your travel with your dog:
Book beforehand: It is essential to book the ticket for your dog early because not more than one or two dogs are allowed on a flight. Also, before purchasing the ticket, make sure when you call the airline, there is a seat available for your dog. If the seat is available, book the same ticket for your dog and yourself on the phone call.
Book a non-stop flight: It is better to take that flight which is direct, and flying on a weekday is also a good choice. This is because airports are less busy on weekdays. Fly in the morning or evening in the summer, and midday during winter when your dog is travelling in the cargo hold, in order to avoid harsh weather conditions.
Check with the Vet: Get your dog checked with the veterinarian and keep the vaccinations Make sure you get a health certificate from your vet 10 days before you leave. If you plan to travel outside of US, take care of the international health care requirements.
Get a dog carrier: There are a variety of carriers available to match each type of dog. The carriers can be either hard-sided or soft-sided, but soft-sided carriers are convenient to carry and can easily be put under the seat. The downside is that this is allowed only in the cabin. Go through the Airline Pet Policies size restrictions to check if your carrier will fit under the seat. Buy a hard plastic carrier with holes for the purpose of ventilation if your pet is travelling in the cargo hold. There must be enough space in the carrier for the dog to stand, lie down and move around with ease. The airline will reject transport if the carrier lacks all of this.
Give your dog identity: Put the name of the dog along with the address and phone number on the carrier. Also, write the address and phone number of the person who could be contacted at the place where you are going. Keep a photo of your dog with yourself in case he gets lost, you will really need the picture to show to the airline employees or the local authorities. What is even better is to use some permanent form of identity like a microchip or tattoo to help others identify your dog.
Help your dog get comfy with the new carrier: Take your pet for trips around town in his new carrier, weeks before travelling. Dogs are less stressed while travelling when they are familiar with their carrier.
Feeding your dog: It is always recommended to feed the dog around 4 hours before the flight because he might feel uncomfortable with a full stomach during the flight. However, giving water to the dog is okay even right before the flight. Don't take the dishes out of the carrier so that the airline can put in food or water in case the flight gets delayed. Take your dog out for exercise and excretion before leaving for the airport.
Reach the airport early: Try to get to the airport early and bring your dog's health certificate along. With a pet, airlines don't allow checking in more than 4 hours before the flight. Usually, airlines permit arriving only 2 hours before time of the flight. Those people who bring along their pets are required to check-in at the counter and curbside. Self service check-in is not permitted.
Don't sedate your dog: It is okay for those who get nervous during the flight to take valium before flying, however the same can't be done with the dogs. Dogs should not be given sedatives because they cause respiratory and cardiovascular issues for the dogs. They are more vulnerable to the pressure caused by high altitudes and taking such drugs can create a hindrance in their natural ability to manage stability or equilibrium, so when the carrier is moved, the dog is exposed to a lot of danger. However, it is advised that you should contact your vet regarding this. If he or she allows sedation and considers it necessary, then write the name of the drug and its prescribed dosage on the carrier.
Once you're there: After reaching your destination, take your dog on a walk before heading to your hotel. This will help the dog get familiarized with the new environment and understand that things will be the same even at this new place. This way when you enter your hotel, your dog will feel at home and will be ready for what you have planned for the week.
Items to pack:
Keep in mind to pack the following things for your dog : health certificate, medical records, comb, brush, products for flea control, an extra collar with id tags, paper towels, stain remover, the usual bottled water, leash, poop bags, a toy and a blanket, your dog veterinarian's contact information, contact info of your destination in case of an emergency, emergency medicines, pet wipes, sufficient dog food for the trip, dishes for food and water and a list of all those restaurants and attraction sites at your destination that might interest your dog.
Latest Posts
How ESAs Help Seniors in Assisted Care Living Facilities
There's something about a wagging tail and a furry face that lights up the atmosphere and brings people together. Dogs and cats can brighten up a room. But, perhaps more importantly, they can heal. This healing factor is why emotional support animals can help seniors in assisted living facilities. What is an Emotional Support Animal? […]

Can I Take a Service Dog to College?
Service dogs are not just for the visually or hearing impaired individual. Service dogs have lent a helping paw to individuals with a broader range of physical and psychological conditions. But what if you are a student and need a service dog? Will colleges allow dogs on campus and into the classroom? Read on for […]

Service Dogs for Mobility Issues
For people with mobility issues, a service dog can provide life-changing help. This assistance animal will help with daily tasks, like retrieving items, helping with balance, or opening doors in public places that would otherwise be of great difficulty for people with mobility issues. A service dog that is specialized in mobility issues suffered by […]