Home Page › Blog › How to Register a Service Dog in California
How to Register a Service Dog in California
Service dogs are the superheroes of the canine world. They make the lives of people with disabilities safer and more comfortable. To achieve this, a service dog undergoes specific training, turning a pet into a medical tool helping people with disabilities complete tasks the owner could not manage themselves. The Golden State understands the vital work that service dogs perform. Therefore, California adheres to the federal laws safeguarding the use of service dogs along with more specific state laws guiding their protection.
Does your Disability Qualify for a Service Dog in California?
As defined by the Americans with Disabilities Act (ADA), a person with a disability is someone:
"[…] who has a physical or mental impairment that substantially limits one or more major life activities, a person who has a history or record of such an impairment, or a person who is perceived by others as having such an impairment."
If you are disabled and looking for a service dog, you need to first assess your needs. Not all disabilities benefit from the help of a service dog. However, many do. For example, if you have mobility issues, you can train a dog to help you obtain your cane or walker. If you struggle with diabetes, you may teach a service dog to alert you when your blood sugar is low. Consult with your healthcare provider to see how a service dog could benefit your situation.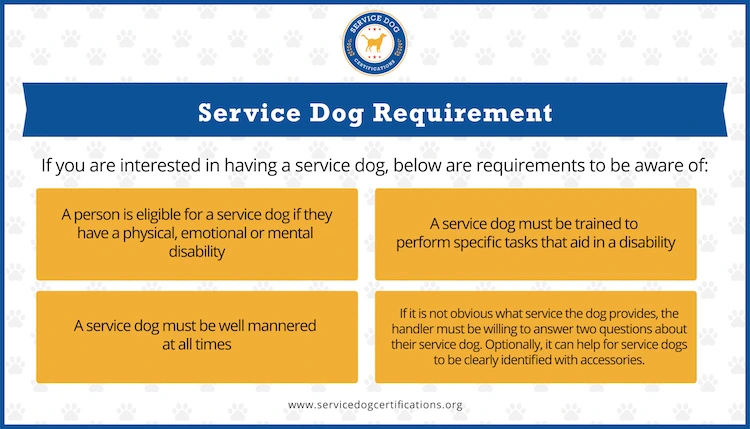 Choose the Dog that Fits Your Needs
Choosing the right service dog breed is essential to a service dog's success. No amount of training will allow a tiny chihuahua to prevent a large person from falling—and it would place the dog in danger. A Saint Bernard has both the size and the temperament to make an excellent service dog who could do the job safely. Also, consider your living and work environment. If you live in a crowded apartment, a smaller sized service dog might be more efficient.
Make sure your choice is based on practicality rather than preference. You may like the way a fluffy Samoyed looks. But if you or your family members have allergies, you may want to opt for a hypoallergenic dog, like an intelligent poodle.
A service dog is a long-term investment, and finding the right breed helps make that investment worthwhile.

Service Dog Certifications
Train Your Dog for Your Disability
Training the service dog is the most labor-intensive and time-consuming part of finding and registering a service dog. However, a well-trained service dog is the key to getting the tasks you need to complete appropriately.
The most cost-efficient way to train a service dog is to train the service dog yourself. It takes more work than other methods, but training your service dog allows you to cater the training to your specific needs. Training the dog yourself enables you and the dog to establish a connection and get to know each other, which benefits you both in the long run.
It's safe to say that most people with a disability don't have the time or ability to train their own service dog. In this case, you can either outsource the training or purchase a trained service dog. These options may be costly, but for people who don't have the time or means to train their own dog, they are viable choices.
With all the resources placed into training a service dog, it may be a good idea to register your service dog.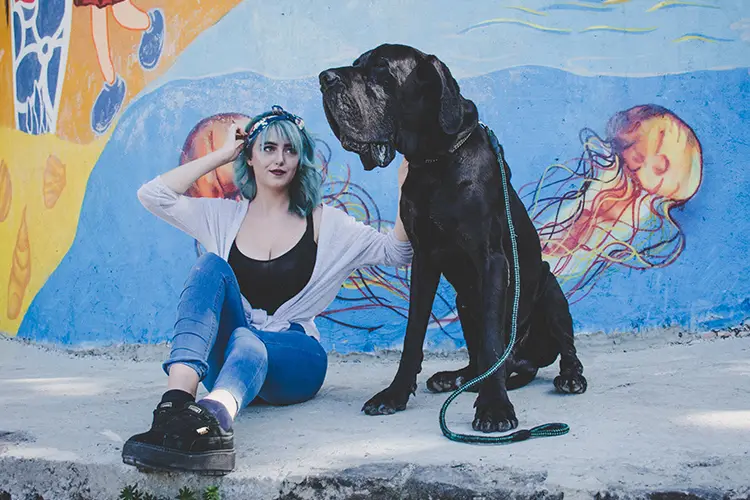 Register Your Service Dog in California
Registering your service dog is a completely optional choice. Having documents like an ID card and being part of a comprehensive database however can offer peace of mind when you're out with your service dog. Everyday activities become less troublesome, as questions and arguments can easily be solved by showing paperwork that labels your dog as an official service dog. Keep in mind though that registering a service dog is completely up to you and no one can demand that you register a valid service dog.
How to Register Your Dog as a Service Dog in California
Registrations are typically done online and require just a few steps to complete:
Input the name of the handler. This usually is the person who the dog performs their service for and who they answer to.
Add the name of the service dog, which would be the name the dog responds to the most often.
Input and verify your email address.
Upload a clear photo of your service dog. Make sure that the image is an accurate representation.
Select the type of service dog certification and other items, if needed. This may be service dog accessories such as a paper certificate, collar tags, leash covers, and other tools.

Why Should I Register My Dog as a Service Dog in California?
Though neither the ADA nor California make registering a service dog mandatory, it can be a good idea to do so. A registered service dog can offer you a degree of privacy, shielding you from intrusive and unnecessary questions.
Also, fraudulent service dogs are on the rise. The increase in fake service dogs makes it more difficult for legitimate service dogs to do their jobs undisturbed. Providing immediate proof of a service dog's status can build public trust in service dogs and the vital jobs they perform.

Service Dogs Protection in California Penal Code 365.7
California recognized the importance of maintaining the integrity of legitimate service dogs as early as 1995. Penal Code 365.7 makes the misrepresentation of a service dog a criminal misdemeanor punishable by up to $1,000 and up to six months' imprisonment.
California Service Dog News
With the help of a grant from the Uniformed Services University of Health Sciences, the California Dog Academy aims to train and offer service dogs to veterans at no cost. As of September 2019, the academy already provided 15 veterans with service dogs of their own. To qualify, veterans must meet requirements and participate in a six-week course.
Latest Posts
How ESAs Help Seniors in Assisted Care Living Facilities
There's something about a wagging tail and a furry face that lights up the atmosphere and brings people together. Dogs and cats can brighten up a room. But, perhaps more importantly, they can heal. This healing factor is why emotional support animals can help seniors in assisted living facilities. What is an Emotional Support Animal? […]

Can I Take a Service Dog to College?
Service dogs are not just for the visually or hearing impaired individual. Service dogs have lent a helping paw to individuals with a broader range of physical and psychological conditions. But what if you are a student and need a service dog? Will colleges allow dogs on campus and into the classroom? Read on for […]

Service Dogs for Mobility Issues
For people with mobility issues, a service dog can provide life-changing help. This assistance animal will help with daily tasks, like retrieving items, helping with balance, or opening doors in public places that would otherwise be of great difficulty for people with mobility issues. A service dog that is specialized in mobility issues suffered by […]