Home Page › Blog › Illinois Service Dog Requirements
Illinois Service Dog Requirements
Individuals in Illinois who require the assistance of a service dog are recognized and protected by federal and state laws. The Americans with Disabilities Act (ADA) and the Illinois Human Rights Act safeguard the rights of service dog owners in the Prairie State.
Illinois law allows service dogs to enter public areas, including places where dogs are typically prohibited. Keep reading to learn more about the requirements and rights of service dogs in Illinois.
Health Requirements
To be eligible for a service dog in Illinois, the handler must have a qualifying physical or mental health disability. A "disability" is defined as a physical or mental impairment that significantly restricts a major life activity such as working, socializing, or attending school.
Physical disabilities include visual impairment, hearing loss, and seizures. Meanwhile, psychiatric disabilities include conditions like severe depression, anxiety, post-traumatic stress disorder (PTSD), and autism. Psychiatric service dogs are trained to support individuals with mental health conditions.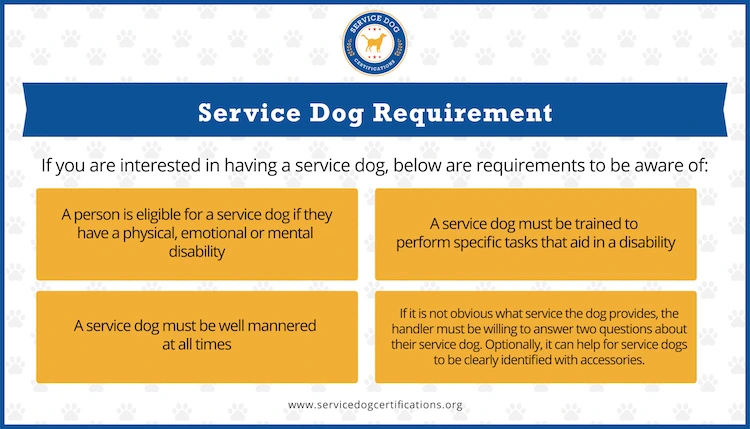 Training Requirements
Merely having a qualifying disability does not automatically qualify an individual for a service dog in Illinois. The dog must be specifically trained to perform tasks directly related to the handler's condition.
Service dogs are trained to perform a wide range of tasks. Some examples of tasks for physical disabilities include pulling wheelchairs, guiding individuals with visual impairments, and providing assistance during seizures.
On the other hand, tasks for psychiatric disabilities may include retrieving medication, providing tactile stimulation during moments of crisis, calming the handler during panic attacks, and assisting in crowded environments.
It is essential to note that service dogs in training do not have the same public access rights as fully trained service dogs.
| | |
| --- | --- |
| | Keeping a training log will help with analyzing the progress of your service dog's training. Download this free sample Service Dog Training Log, provided by Service Dog Certifications. |
Identification Requirements for Service Dogs in Illinois
While most service dog owners use accessories like ID cards, vests, tags, and certificates to signal that their dog is a service dog, these items are not required in Illinois. However, service dog owners may prefer to use these items to identify their dogs as service animals and prevent unwanted interactions with their dogs while on duty.
When a service dog handler's disability is not apparent, stores, restaurants, and other public venues in Illinois may ask two questions to determine if the dog is a service dog:
Is the animal a service dog required for a disability?
What work or task has the dog been trained to perform?
Service Dog Registration in Illinois
There is no specific registration requirement for service dogs in Illinois. However, you may have to register your dog if there is a local rule that requires registration of all dogs.
While service dog registration is optional, many handlers choose to register their service dogs voluntarily. By registering their service dogs with a service like Service Dog Certifications, the dog's information is entered into a searchable database linked to an ID card.
Service dog handlers can use this card to demonstrate that their dog is a service dog, which may be convenient when third parties demand documentation. However, keep in mind that no one can condition entry of a service dog on having any type of documentation or paraphernalia.
Psychiatric Service Dog Requirements
While most people associate service dogs with physical disabilities, service dogs also support individuals with psychiatric disabilities. In Illinois, psychiatric service dogs (PSD) have the same legal rights as other types of service dogs, as they are equally important to their handlers' health management.
Psychiatric service dogs perform a wide range of tasks, including:
deep pressure therapy
reminding the handler to take medication
posting and watching the handler's back in open areas
providing tactile stimulation
alerting the handler to oncoming threats or episodes
disrupting repetitive self-destructive behaviors
Wonder if you qualify for a Psychiatric Service Dog?
Get an assessment from a licensed medical health professional. If you qualify, they can issue a PSD Letter so that you can confidently train and own a PSD.
Where Can Service Dogs Go in Illinois?
Service dogs in Illinois are permitted to accompany their handlers in public areas that do not allow pets. For example, handlers can bring their service dog to restaurants, shops, hospitals, schools, and hotels.
Service dogs also have housing rights and must be allowed to live with their handlers, even in buildings prohibiting dogs.
Service Dog Legal Cases in Illinois
Third parties can get in trouble when they violate the rights of service dog owners. There have been many legal cases involving service dogs in Illinois.
One of the cases involved a woman with a service dog who was denied access to a local restaurant. The woman filed a complaint with the Illinois Attorney General's office, which resulted in a settlement requiring the restaurant to train its employees on the Americans with Disabilities Act (ADA) and pay a fine.
Another case involved a student with a service dog who was denied access to a university dormitory. The student filed a complaint with the U.S. Department of Education's Office for Civil Rights, which resulted in a settlement requiring the university to revise its policies and pay a fine.
In a third case, a woman with a service dog was denied access to a hospital. The woman filed a complaint with the Illinois Department of Human Rights, which found the hospital had violated the Illinois Human Rights Act and ordered the hospital to pay damages to the woman.
These cases illustrate the importance of understanding the laws and regulations related to service dogs in Illinois and ensuring that individuals with disabilities are able to access public venues with their service animals.
Latest Posts
How a Service Dog Can Help Someone With ADHD
Dealing with Attention Deficit Hyperactivity Disorder (ADHD) can sometimes feel like a rollercoaster ride. From racing thoughts to difficulty focusing and maintaining attention, navigating daily life can be challenging. ADHD is a common affliction, but for some, the condition can be debilitating, particularly if they have ADHD in conjunction with other mental or physical health […]

Is a Service Dog or Emotional Support Animal Best for Anxiety?
What is better for anxiety, a service dog or an emotional support animal? The answer depends on many factors, but perhaps the most important distinction is the following: Who qualifies for a service dog for anxiety? To qualify for a psychiatric service dog for anxiety, the handler's condition must rise to the level of a […]

How Can I Register My Dog as an Anxiety Service Dog?
What to know: If you have a service dog for anxiety, you can register your dog with a registry like ServiceDogCertifications after affirming you have met all the necessary qualifications. Note that while registering a service dog can be useful, it is not required under the ADA. Why register an anxiety service dog? Handlers with […]