Home Page › Blog › How to Register a Dog as a Service Dog in Georgia
How to Register a Dog as a Service Dog in Georgia
Service dogs play an indispensable role for many individuals with physical and mental health disabilities. Recognizing this, Georgia provides legal protections and rights for service dog handlers.
In the Peach State, service dogs have the right to access public areas typically off-limits to animals and can reside in homes and apartments that generally don't permit pets. Service dogs can also board airplanes free of charge.
In this article, we'll highlight some key details about service dogs in Georgia.
Who can handle a service dog in Georgia?
Service dogs aren't pets; they are legally protected assistance animals for individuals with disabilities. As outlined by the Americans with Disabilities Act (ADA), a person with a disability is someone:
"who has a physical or mental impairment that substantially limits one or more major life activities."
The requirements: The handler must have a physical or mental health disability and should train the dog – either personally or through a professional – to execute a job that assists with their disability.
Service dogs can perform tasks such as guiding the visually impaired, providing deep-pressure therapy for those with psychiatric disabilities, or pulling wheelchairs. Service dogs used for mental or intellectual disabilities are referred to as psychiatric service dogs.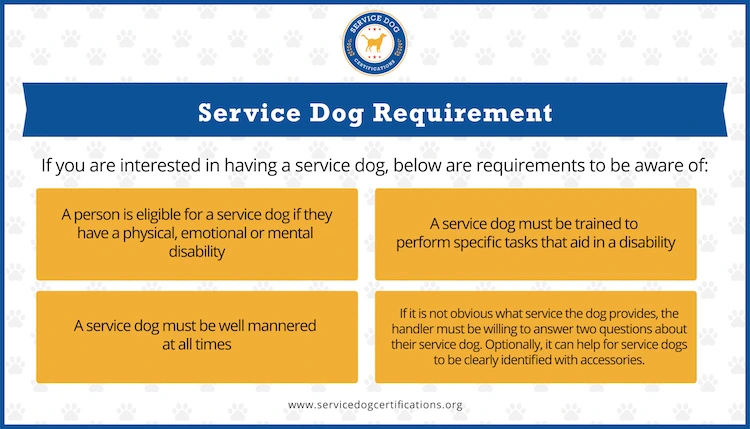 Registering Your Service Dog in Georgia
Is it required: In Georgia, there's no formal requirement for service dog registration. However, many handlers choose to register their dogs in voluntary databases to obtain ID cards.
Benefits: Service dog owners frequently use accessories like vests, ID cards, and certificates to inform the public about their dog's status. These tools can be beneficial in conveying to others that your dog is a highly trained service dog, not a pet. This can discourage unnecessary inquiries about the dog's presence in areas generally closed to pets and prevent others from interfering with the dog while it's on the job.
It's crucial to note that these accessories cannot replace genuine service dog verification. No one can insist on these items as a condition of access. They are merely a display for the convenience of the handler.
The only way to verify: In Georgia, third parties may ask two questions if the need for the service dog isn't immediately apparent:
Is the dog a service dog required for a disability?
What work or task has the dog been trained to perform?
A Georgia service dog handler who can adequately answer these questions must be reasonably accommodated in public spaces without showing any documentation.
To register your service dog and obtain an ID card, Service Dog Certifications (SDC) offers a database and service dog accessories. Here are the steps to register a service dog with SDC in Georgia:
Confirm you are a service dog owner

You will need to confirm that you are a service dog owner with a fully trained service dog.

Enter the name of the service dog and handler

This information will be entered into the service dog registration database.

Upload a recent photo of your service dog (optional)

The photo will be displayed on the ID card and in the database.

Select other accessories

You can order additional service dog identification cards, a service dog collar tag, a paper certificate, a vest, etc.

At checkout, enter your email address

You will receive your digital identification card and registration information at this email address.

Training a Service Dog in Georgia
A service dog must be specifically trained to perform their necessary tasks. Furthermore, the dog must be well-behaved and under control in public settings.
There are three general routes for training a service dog:
Adopt a dog from a service dog trainer: This option involves adopting a dog that has already been trained for the tasks you require. However, this can be expensive.
Hire a professional trainer: You can select a dog and outsource the training to a professional.
Training on your own: Handlers can independently train their service dogs without external help. It's more time-consuming, but you can build a stronger handler-dog bond. Before choosing this option, be confident in your ability and knowledge to train a service dog.
Georgia State Laws
While federal laws protect service dogs and their handlers' rights, Georgia law also provides support through O.C.G.A. § 30-4-2. This statute gives service dogs in training the same public access rights as fully trained service dogs.
Georgia law also makes it a misdemeanor to falsely present a pet as a service animal. It's crucial to know that the handler's honesty is vital in maintaining trust and legitimacy in the service dog community.
Georgia Service Dog News
The Georgia Department of Veterans Service has partnered with Rebuilding Warriors, a non-profit organization that provides service dogs to veterans. These dogs are trained specifically to assist with the veterans' unique needs, thereby enhancing their quality of life and helping them reintegrate into society.
Latest Posts
Everything You Need to Know About Being in Chicago With Your Service Dog
Are you embarking on a journey to Chicago with your service dog? The Windy City is renowned for its deep-dish pizza, blues music, towering skyline, and much more. If you're venturing into the heartbeat of the Midwest with your service dog, preparation is key. From the chilly winter breezes to the bustling vibes of Michigan […]

How to Register a Dog as a Service Dog in New Jersey
Service dogs provide invaluable assistance to individuals grappling with physical and mental health challenges. Taking note of their paramount importance, New Jersey has enacted laws to uphold the rights of service dog handlers. In the Garden State, service dogs enjoy unrestricted access to public spaces where animals might typically be prohibited. They're also welcomed in […]

How to Get a Service Dog for Free
Many people feel they might need a service dog in their lives but are afraid of the costs. Indeed, a fully trained service dog purchased from a reputable organization can cost tens of thousands of dollars. The high cost of a trained service dog leads many to wonder: "How can I get a service dog […]