Home Page › Blog › How to Register a Dog as a Service Dog in Ohio
How to Register a Dog as a Service Dog in Ohio
Service dogs are a lifeline for countless individuals with physical and psychological disorders. Acknowledging their critical role, Ohio has established regulations that safeguard the rights of service dog handlers.
In the Buckeye State, service dogs have the liberty to access public zones where animals are generally prohibited. Furthermore, they are allowed in housing units where ordinary pets might not be accepted.
In this detailed guide, we'll outline the rights of service dogs in Ohio, the eligibility criteria for handlers, and what the registration process means.
Who Qualifies to Handle a Service Dog in Ohio?
Service dogs transcend the realm of traditional pets. They're designated assistance animals serving individuals with disabilities. As defined by the Americans with Disabilities Act (ADA), a person with a disability is someone:
"who has a physical or mental impairment that substantially limits one or more major life activities."
To be eligible in Ohio, the handler should be diagnosed with a physical or mental health disability, and the dog must be trained – either by the handler or a professional – to carry out specific tasks associated with the handler's disability.
Such skilled canines perform jobs like guiding blind people, offering therapeutic support for psychological disorders, or aiding mobility by pulling wheelchairs. Dogs that assist with mental health-related disabilities are typically called psychiatric service dogs.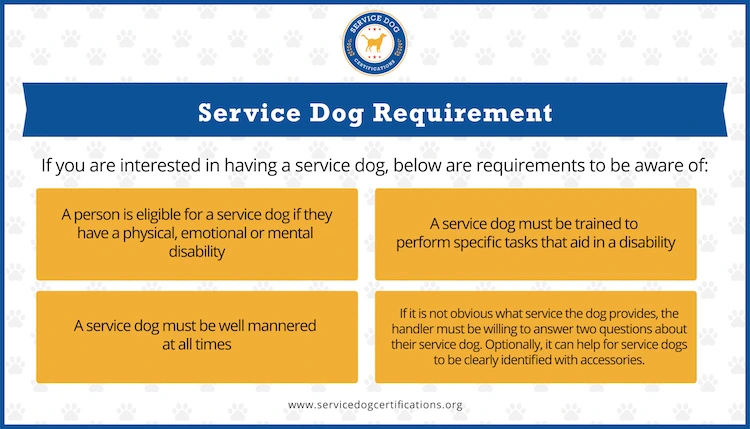 Understanding Service Dog Registration in Ohio
Is a Service Dog Registration necessary? No. In Ohio, there's no legal obligation to register service dogs. While there's no requirement for proof of registration to ascertain your service dog's status, many handlers opt for voluntary database registrations to attain ID cards.
Handlers often employ badges like vests, ID cards, or certificates to underscore their dog's specialized status. These markers play a pivotal role in distinguishing a regular pet from a trained service dog, reducing unwarranted interrogations in areas usually off-bounds to pets, and ensuring the dog remains undisturbed.
However, it's crucial to discern that these items aren't official proof of a dog's service status. And nobody should require these accessories for entry. They serve mainly for the handler's convenience when facing the public.
In Ohio, if the role of the service dog isn't instantly recognizable, third parties are limited to two questions:
Is this dog required for a disability?
What job or task has the dog been trained to execute?
Once these questions are answered to everyone's satisfaction, an Ohio service dog handler should be accorded unhindered access to public locales without necessitating any documentation.
For those inclined to register their service dog and obtain an ID card, Service Dog Certifications (SDC) is a sought-after choice.
Here's the step-by-step process to enroll a service dog with SDC in Ohio:
Verify your status as a service dog handler.
Input details of the service dog and handler.
Provide your email for communications and digital ID dispatch.
Upload a current picture of your service dog.
Explore and select auxiliary items like additional ID cards, tags, vests, etc.

Ohio Service Dog Training Standards
To earn the title of a service dog, meticulous training tailored to their designated tasks is imperative. They must also exhibit exemplary demeanor and restraint in public environments.
The three main avenues for training include:
Adopting an already-trained service dog.
Engaging a professional for customized training.
Undertaking self-training which also fosters a profound bond between the handler and canine. But only consider this if you're already adept at training a dog.
Laws About Service Dogs in Ohio
Beyond the federal provisions of the ADA, Ohio has its own set of statutes that fortify the rights of service dog handlers.
Ohio law, specifically ORC 955.43, permits persons with disabilities to be accompanied by their service dogs in all public places. However, there are some quirks in Ohio law that are not consistent with federal ADA rules. For example, the Ohio definition of "assistance dog" only covers a person who is blind, deaf or hard of hearing, or mobility impaired.
However, ADA rules likely preempt the Ohio rules. That means, for example, the Ohio requirement that an "assistance dog" be leashed is probably overruled by the more flexible ADA standard. Same with the Ohio requirement that the dog be trained by a nonprofit special agency. The ADA permits the training of service dogs with the help of a professional or without any outside assistance. Psychiatric service dogs are also recognized by the ADA and, therefore, in Ohio, even though the Ohio statute neglects to mention them.
In Ohio, falsely portraying a pet as a service animal is a violation that can lead to penalties. Upholding integrity and honesty is fundamental in cultivating mutual trust between the general public and legitimate service dog handlers.
Businesses can face lawsuits for not following service dog guidelines. In one case, a disabled veteran settled a lawsuit against a health services provider in Cleveland after staff allegedly refused to perform an examination because of the veteran's service dog.
Ohio's Service Dog Updates
Recently, in Ohio, the U.S. Attorney recognized the observance of Service Dog Awareness Week and reminded the public of the valuable contributions that service animals make. The Attorney's Office highlighted the federal laws that protect these animals and those who use them.
Conclusion
Ohio is a state that is committed to the rights of service dog owners, ensuring that handlers and their canine partners are treated with the dignity and privileges they are entitled to. If you're a service dog handler in Ohio, you can be confident about your rights whenever you're in public.
Latest Posts
How to Know When Your Service Dog is Stressed
Understanding when your service dog is stressed is crucial for both their well-being and their effectiveness in assisting you. Let's delve into the signs of stress in service dogs, with illustrative examples, and explore what steps you can take to alleviate their stress. Recognizing Stress in Service Dogs Physical Signs of Stress Behavioral Indicators Service-Specific […]

How to Know Your Service Dog is Ready for Duty
Determining if a service dog is ready for duty requires a clear understanding of the Americans with Disabilities Act (ADA) guidelines, recognizing essential skills and behaviors, and evaluating the dog's preparedness through various assessments. This guide delves into the ADA requirements, key abilities a service dog should possess, and the significance of Public Access Tests […]

How to Register a Dog as a Service Dog in Pennsylvania
Service dogs act as essential aides for many people facing physical or psychological disabilities. Recognizing their vital assistance, Pennsylvania has set forth laws that protect the rights of service dog handlers. In the Keystone State, service dogs are granted full access to public areas where other animals might typically be restricted. Additionally, these dogs are […]