Home Page › Blog › How to Get a Service Dog in Florida
How to Get a Service Dog in Florida
Florida's tropical climate and sunny skies are a canine's dream home. With its fun-filled beaches, green wilderness, and vast areas to run in, the Sunshine State offers pet-lovers plenty of outdoor activity options to share with their dogs. Florida ranks consistently on the top 10 pet-friendly states lists, proving how accepting Florida is of furry friends. And if you need a service dog, Florida not only has excellent service dog training options but also provides protections for service dog handlers.
What is a Service Dog?
If you're diagnosed with a disability and have a task that a service dog could perform for you, you may benefit from a service dog. First, meet with your healthcare provider to evaluate your current needs. The task a service dog performs is typically an activity the person with a disability does daily or is done for safety. Unlike therapy dogs and emotional support animals, service dogs receive extensive training to complete their required tasks.

Federal Protection for Service Dogs
Because they're an essential part of their handler's well-being, a service dog is protected by the Americans with Disabilities Act (ADA). This federal law allows service dogs to accompany their handlers in all areas accessible to the public, even in places where pets cannot go; these include hotels, restaurants, movie theaters, and medical centers.
Service dogs are also protected under the Fair Housing Act (FHA) and Air Carrier Access Act (ACAA) laws. The FHA requires landlords and housing managers to admit service animals into their rentals without charging pet fees. The ACAA also obligates airlines to accept service dogs onto their flights, with no additional pet fees or pet restrictions. These federal laws protect service dogs and not pets. Why? Because service dogs aren't pets!
Getting a Service Dog in Florida
If you and your healthcare provider have decided what tasks a service dog can help you with, it's time to determine how you want to go about finding a service dog.
Here are the four common paths to getting a service dog:
Buy a fully-trained service dog.
Find a dog and train it yourself.
Find a dog and outsource the more complex training. Train the dog the basic skills yourself.
Buy the dog yourself, but outsource all the training to a professional.
The first option is to purchase a trained service dog. Although this choice comes with the highest price tag, it saves time on training your service dog. The second and third options involve some time to train the dog yourself. Training is typically the most labor and time-intensive aspect of getting a service dog. For some owners, outsourcing all the training can be the most cost-effective and least time-consuming path to owning a service dog.
If you're looking to train your own service dog, you'll need to find a suitable service dog candidate. Take into consideration that the dog you choose must be capable of physically performing the required task. For example, a Chihuahua would be too small to serve as a mobility service dog to brace falls. Keep your safety — and your dog's safety — in mind! Additionally, look for dogs that are calm, eager-to-please, and easy to train.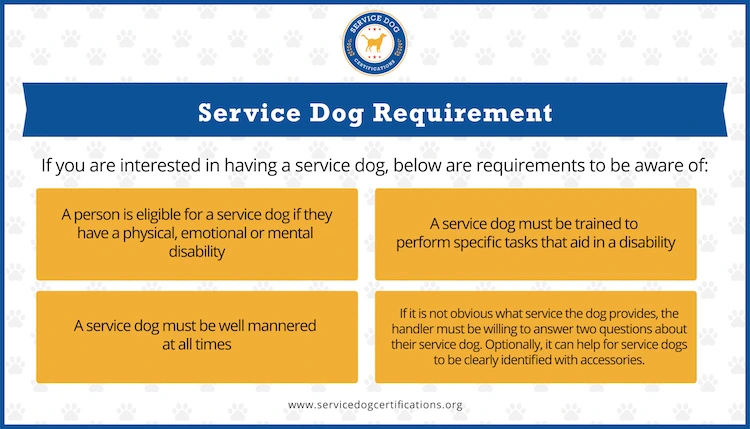 Scouting for Your Service Dog Candidate
Here are a few places in Florida that may have the ideal service dog candidate for you:
S.A.F.E. Pet Rescue, Inc.
Located in Northeast Florida, S.A.F.E. Pet Rescue, Inc. rescues dogs and cats, placing them into loving homes. Because their dogs are fostered and socialized, they're adoption-ready and willing to be trained.
Ayla's Acres
Ayla's Acres is a no-kill pet rescue located in St. Augustine. Their 45-acre pet sanctuary (which includes farm animals) allows rescued pets the freedom and space to heal and socialize.
Training Your Service Dog in Florida
Once you've obtained your service dog candidate, it's time to start training. These training schools may be helpful:
Mind Your Manners Canine Training
Mind Your Manners Canine Training is an award-winning dog training and behavior modification school in the city of Kathleen. Their training plans cater to every dog and dog owner, changing to fit their needs. Mind Your Manners offers service dog training, along with other basic obedience skills.
Southeastern Guide Dogs
Southeastern Guide Dogs offer service dogs and training at no cost, though an application and a wait time are required. Run by volunteers, Southeastern Guide Dogs also provides free psychiatric service dogs to veterans struggling with post-traumatic stress disorder (PTSD).
Service Dog Training Law in Florida
If you need further proof that Florida is a service dog-friendly state, you'll be happy to find that Florida state law covers service dogs beyond federal regulations. For instance, Florida Statute Chapter 413.08 covers dog trainers when training service dogs in public.
Lastly, Florida Statute Chapter 413.081 protects the health and safety of service dogs by making the intimidation or harm of a service dog open to state penalties.
Latest Posts
How ESAs Help Seniors in Assisted Care Living Facilities
There's something about a wagging tail and a furry face that lights up the atmosphere and brings people together. Dogs and cats can brighten up a room. But, perhaps more importantly, they can heal. This healing factor is why emotional support animals can help seniors in assisted living facilities. What is an Emotional Support Animal? […]

Can I Take a Service Dog to College?
Service dogs are not just for the visually or hearing impaired individual. Service dogs have lent a helping paw to individuals with a broader range of physical and psychological conditions. But what if you are a student and need a service dog? Will colleges allow dogs on campus and into the classroom? Read on for […]

Service Dogs for Mobility Issues
For people with mobility issues, a service dog can provide life-changing help. This assistance animal will help with daily tasks, like retrieving items, helping with balance, or opening doors in public places that would otherwise be of great difficulty for people with mobility issues. A service dog that is specialized in mobility issues suffered by […]