Home Page › Blog › How to Verify a Service Dog
How to Verify a Service Dog
Trying to determine if a dog is a service dog can feel like a game of Twenty Questions, but there's only really two questions a business owner is allowed to ask:
Is the dog a service animal required because of a disability?
What work or task has the dog been trained to perform?
As cryptic and frustrating as that sounds, these parameters are present for good reasons. They protect the personal privacy of the service dog's handler. In addition, the Americans with Disabilities Act protects the rights and privacy of individuals with disabilities, thus also protecting the right of a service dog to perform their task. In short, owners of service dogs have federal rights. Because of these federal protections, the public should be aware of the appropriate way to verify a service dog.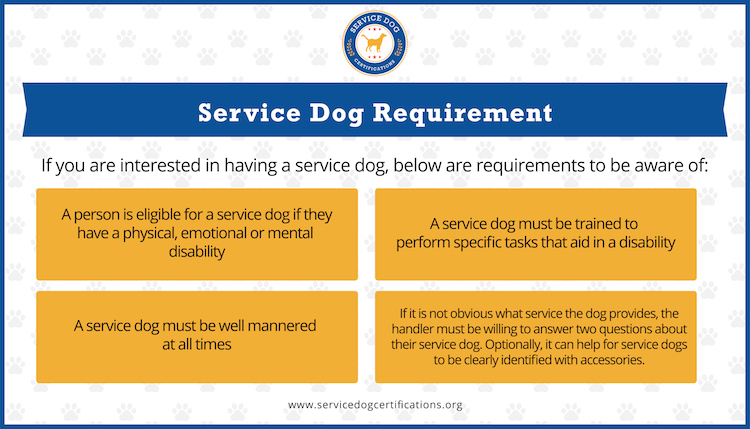 What is a Service Dog?
According to the Americans with Disabilities Act (ADA), a service dog is trained to complete a task directly relating to their owner's disability. A service dog is not a pet but a way for a disabled person to overcome their disability. Because service dogs affect their owners' health and welfare, they're allowed into areas where pets aren't typically welcome. Some examples of service dog tasks are:
Alert people with hearing impairments.
Identify impending seizures.
Help people with mobility problems.
What Can You Ask a Service Dog Owner?
As stated prior, there are two questions a business can ask a service dog owner when trying to verify a service dog:
Is the dog a service animal required because of a disability?
What work or task has the dog been trained to perform?
Though other questions may seem relevant, they can be considered intrusive and discriminatory. Here are a few examples of questions that may seem pertinent but infringe on privacy or are discriminatory.
What kind of disability do you have?
Can your dog demonstrate what it does for you?
Do you have documents to prove that your dog is a service dog?
Why does that dog need to be with you in here?
Would you be okay without the dog with you?
The ADA laws do not require service dogs to be registered, certified, or wear identifying gear such as a vest or ID tag. Therefore, asking for identification or documentation would not establish whether a dog is a service dog.
Where is a Service Dog Allowed?
Federal laws allow a service dog to go wherever their owner goes. This includes hotels, stores, movies, restaurants, airlines, and anywhere else typically accessible to the public. For example, service dogs can live with their owners in "no-pets allowed" housing due to the federal Fair Housing Act. Service dogs can also travel with their owners in the cabin of airplanes because of the Air Carrier Access Act. These federal laws also exempt service dog owners from any fees for housing, lodging, and travel typically applied to pets.

When Can You Ask a Service Dog to Leave?
Almost all service dogs are well-behaved and exceptionally trained, but they're not always perfect. There are instances when service dogs may be removed from the area. The U.S. Code of Federal Regulations states that there are two reasons a service dog can be asked to leave the premises:
If the service dog's owner is not able to command the dog, and the dog is out of control.
If the service dog isn't properly housebroken or if the dog urinates or defecates in an inappropriate area.
If a service dog does not behave appropriately in public and is required to leave the area for any of the above reasons, the dog's owner must be allowed to remain without the dog. If the service dog damages property, the business may charge the service dog owner for cleaning after the fact. Surcharges that usually apply to pets don't apply to a service dog. Additionally, businesses can't segregate service dogs and their owners from the rest of their patrons.
Misrepresentation of Service Dogs
Although there is no federal law that penalizes fraudulent service dog owners, many states have laws against the misrepresentation of a service dog. Nevertheless, people still attempt to pass their pets as service dogs. Service dogs undergo hundreds of hours of training.
Well-trained service dogs are usually not disruptive, unruly, or aggressive. When interacting with the public, service dogs remain focused on their work. They receive training to avoid interactions with others unless necessary because distractions can be dangerous for their owners.
Service dogs do noble and vital work for people who have disabilities. It's essential to verify service dogs correctly, to adhere to federal laws, and to respect the work that they do.

Latest Posts
How ESAs Help Seniors in Assisted Care Living Facilities
There's something about a wagging tail and a furry face that lights up the atmosphere and brings people together. Dogs and cats can brighten up a room. But, perhaps more importantly, they can heal. This healing factor is why emotional support animals can help seniors in assisted living facilities. What is an Emotional Support Animal? […]

Can I Take a Service Dog to College?
Service dogs are not just for the visually or hearing impaired individual. Service dogs have lent a helping paw to individuals with a broader range of physical and psychological conditions. But what if you are a student and need a service dog? Will colleges allow dogs on campus and into the classroom? Read on for […]

Service Dogs for Mobility Issues
For people with mobility issues, a service dog can provide life-changing help. This assistance animal will help with daily tasks, like retrieving items, helping with balance, or opening doors in public places that would otherwise be of great difficulty for people with mobility issues. A service dog that is specialized in mobility issues suffered by […]