Home Page › Blog › How to Register a Dog as a Service Dog in Virginia
How to Register a Dog as a Service Dog in Virginia
Service dogs are a priceless asset to many individuals navigating physical and mental health challenges. Virginia protects these individuals by providing legal protections and privileges for service dog handlers.
In the Old Dominion State, service dogs are granted unhampered access to public spaces where other animals are typically disallowed. These trained helpers are also permitted in residential properties that might not usually allow pets. What's more, service dogs are allowed on flights without extra charges.
In this post, we're excited to share essential information about service dogs in Virginia.
Who is eligible for a service dog in Virginia?
Service dogs are far from ordinary pets. They are legally recognized assistance animals catering to individuals with disabilities. According to the Americans with Disabilities Act (ADA), a person with a disability is defined as:
"someone with a physical or mental impairment that significantly limits one or more major life activities."
Eligibility Criteria: The handler should possess a physical or mental health disability, and the dog must be trained, either by the handler or a professional, to perform tasks directly related to this disability.
Service dogs can carry out various tasks, such as assisting individuals with visual impairments, offering deep pressure therapy for psychiatric disabilities, or aiding in mobility for those with physical disabilities.
Service dogs meant for individuals with mental or intellectual disabilities are referred to as psychiatric service dogs.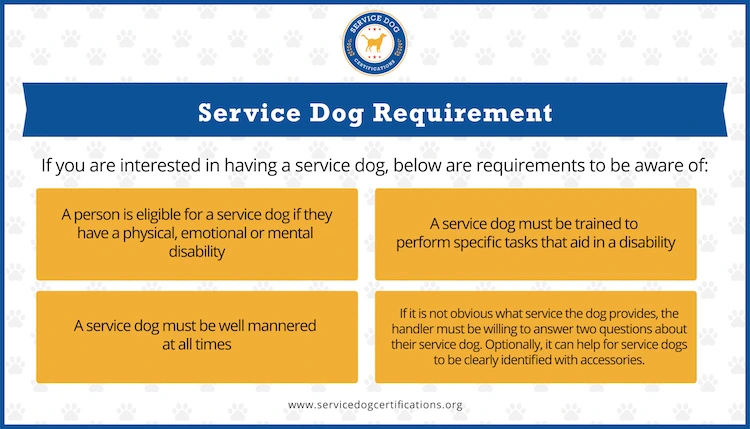 Getting Your Service Dog Registered in Virginia
Is it compulsory? In Virginia, like in other states, there isn't a formal requirement for service dog registration. Still, many handlers register their dogs in voluntary databases to obtain identification cards.
Perks: Owners of service dogs use tools such as vests, ID cards, and certificates to publicize their dog's special status. These aids can effectively communicate to the public that the dog is a highly trained service dog, not a mere pet.
They can help dissuade unnecessary questioning about the dog's presence in pet-restricted areas and prevent interference while the dog is on duty.
However, these tools should not be seen as a substitute for authentic service dog verification. No one can demand these items as proof of access. They are merely presented for the handler's convenience.
The only valid verification: In Virginia, if a service dog's necessity isn't immediately evident, third parties may ask the following two questions:
Is the dog a service dog required for a disability?
What work or task has the dog been trained to perform?
Any Virginian service dog handler capable of appropriately answering these questions must be granted access to public spaces without the need for any documentation.
To register your service dog and secure an ID card, Service Dog Certifications (SDC) offers a database and accessories for service dogs. Here's how to register your service dog with SDC in Virginia:
Confirm your status as a service dog handler

You will need to confirm that you're a service dog owner in Virginia with a disability and possess a fully trained service dog.

Provide details of the service dog and owner

This information will be recorded in the service dog registration database.

Provide your email address

This is where your digital identification card and registration information will be sent.

Upload a recent photo of your service dog

The image will be featured on the ID card and in the database.

Choose optional accessories

You have the option to order additional service dog identification cards, a service dog collar tag, a paper certificate, a vest, and more.

Training a Service Dog in Virginia
Service dogs must be expertly trained to execute their intended tasks. Additionally, the dog must exhibit good behavior and be under control in public environments.
You can train a service dog in three main ways:
Adopt a dog from a service dog trainer: This involves adopting a dog that has already been trained for the tasks you require. However, this route can be costly.
Engage a professional trainer: This allows you to select a dog and entrust the training process to a professional.
Train independently: Handlers can train their service dogs without external help. While potentially more time-consuming, this method can foster a more profound handler-dog relationship. Before choosing this option, consider your ability and knowledge to train a service dog.
Virginia State Laws
While federal laws offer protections for service dogs and their handlers, Virginia law also lends support under Virginia Code § 51.5-44. This statute gives special rights to people that require the use of a service animal.
Virginia law also penalizes fraudulent representation of a pet as a service animal. In Virginia, it is illegal to knowingly and willfully fit a dog with service dog accessories "in order to represent that the dog is a service dog or hearing dog to fraudulently gain public access."
It's vital to remember that handler honesty is a key component in maintaining trust and integrity within the service dog community.
Virginia Service Dog News
In an unfortunate event, a Virginia family was scammed out of $17,000 they spent to buy a service dog for their autistic daughter. The couple paid money to a nonprofit that was charged with a felony count of theft by swindle. 
This case highlights the importance of using service dog organizations and trainers that are trustworthy and properly vetted. If you're adopting a service dog rather than training one yourself, make sure the organization has a proven track record of successful service dog placements. Don't hesitate to obtain referrals and references to validate a service dog provider. 
Latest Posts
Everything You Need to Know About Being in Chicago With Your Service Dog
Are you embarking on a journey to Chicago with your service dog? The Windy City is renowned for its deep-dish pizza, blues music, towering skyline, and much more. If you're venturing into the heartbeat of the Midwest with your service dog, preparation is key. From the chilly winter breezes to the bustling vibes of Michigan […]

How to Register a Dog as a Service Dog in New Jersey
Service dogs provide invaluable assistance to individuals grappling with physical and mental health challenges. Taking note of their paramount importance, New Jersey has enacted laws to uphold the rights of service dog handlers. In the Garden State, service dogs enjoy unrestricted access to public spaces where animals might typically be prohibited. They're also welcomed in […]

How to Get a Service Dog for Free
Many people feel they might need a service dog in their lives but are afraid of the costs. Indeed, a fully trained service dog purchased from a reputable organization can cost tens of thousands of dollars. The high cost of a trained service dog leads many to wonder: "How can I get a service dog […]