Home Page › Blog › Service Dog Training Tip – Walking on a Leash
Service Dog Training Tip – Walking on a Leash
Have you ever asked yourself, 'How do I get my dog to stop pulling on the leash'? You are not alone. This is a common question. You may have noticed other dogs walking calmly beside their handler while your dog tugs impatiently on the leash.
In this article, we'll show you how to teach your service dog in training to keep pace with you during walks.
Getting Started
Step 1 – Leash and Treats
You can begin leash training in your yard with a 10-20 foot leash and treats your dog likes (small pieces of meat or fruit usually work if you don't have dog treats or any food your dog likes). It's best to use a front harness instead of a neck collar.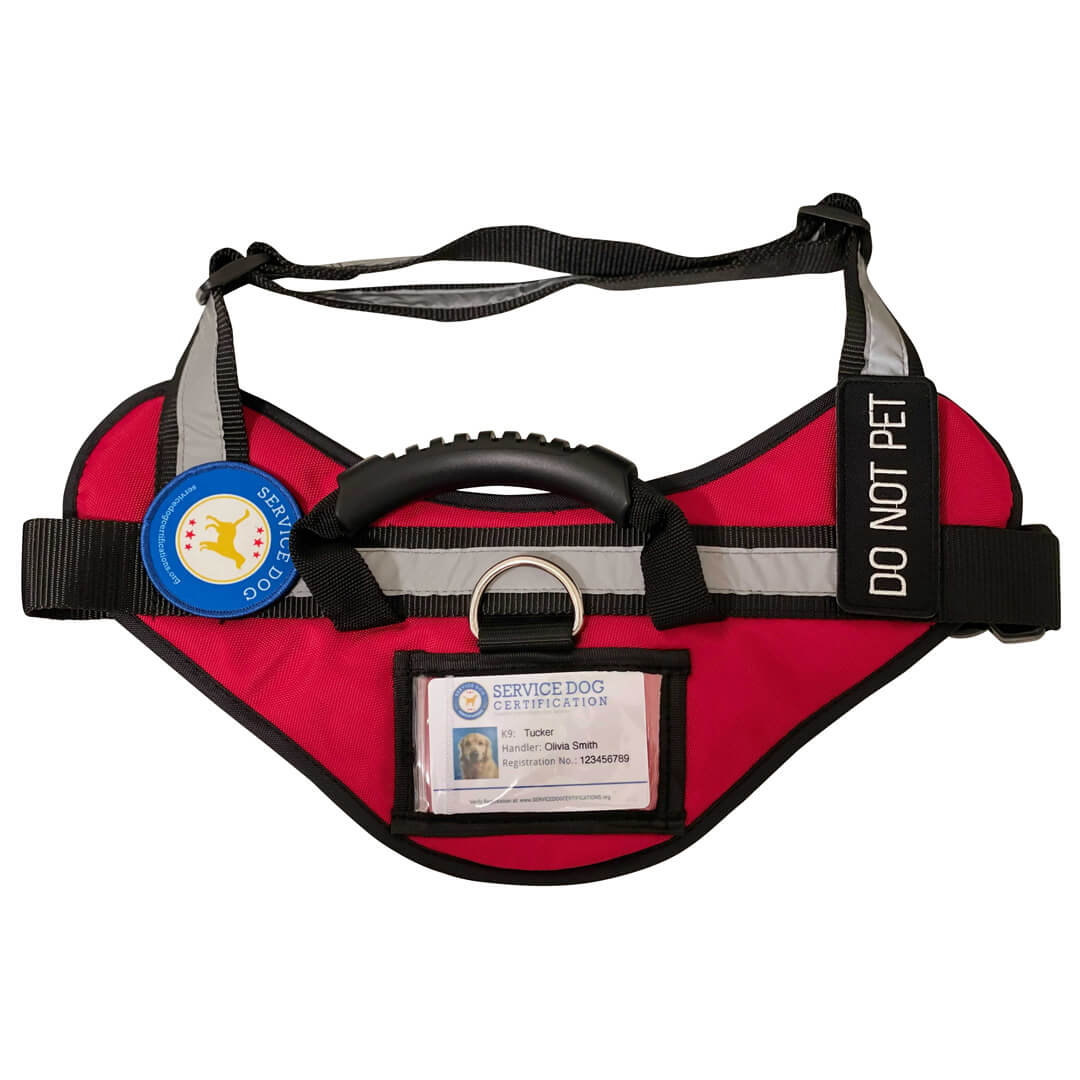 Some big dogs may do better with a head collar. These may also discourage pulling because when the dog strains at the lead, the head collar puts gentle downward pressure on the dog's head.
Step 2 – Establish a Habit
First, decide which side you want your dog to walk on, then always practice with the dog on that side. This will be the side you offer treats on, encouraging the dog to stay there. Walk around your yard, rewarding your dog with a treat when they stay by your side. At first, give them a treat every few steps for staying with you. You can do this less often as the dog improves, but they should always get their reward while doing the behavior you want to reinforce — in this case, staying by your side.
Sometimes the dog will lag or wander. When this happens, say, "Let's go" or "Come on" while slapping your thigh on the treat side. This should get your dog's attention. As soon as your service dog catches up with you, give them a treat. Give more treats every few steps as the dog continues to stay with you.
| | |
| --- | --- |
| | Keeping a training log will help with analyzing the progress of your service dog's leash training. Download this free sample Service Dog Training Log, provided by Service Dog Certifications, to get started. |
Step 3 – Dealing with Stubbornness
What if your service dog in training is stubborn? If the dog doesn't respond to "Let's go" or the slap on your thigh, pull the leash taut and give it a gentle tug. The idea is to remind the dog of your presence and make it more difficult for them to ignore you. However, don't force or pull the dog to you! Let them catch up on their own. Offer praise when they finally come toward you, then take pressure off the leash.
Step 4 – Set Boundaries
Dogs need time and space to relieve themselves when walking, but you want to be able to decide when and where they do it (not on the neighbor's rose bush!). Choose a time when you would typically give a food reward, and instead say, "Sniff" or "Potty." This freedom to explore is a reward, too – so if the dog tugs on the lead, say, "Let's go," and end the free time. Do this also when your service dog is finished with relieving, and you're ready to end the free time. Then continue walking.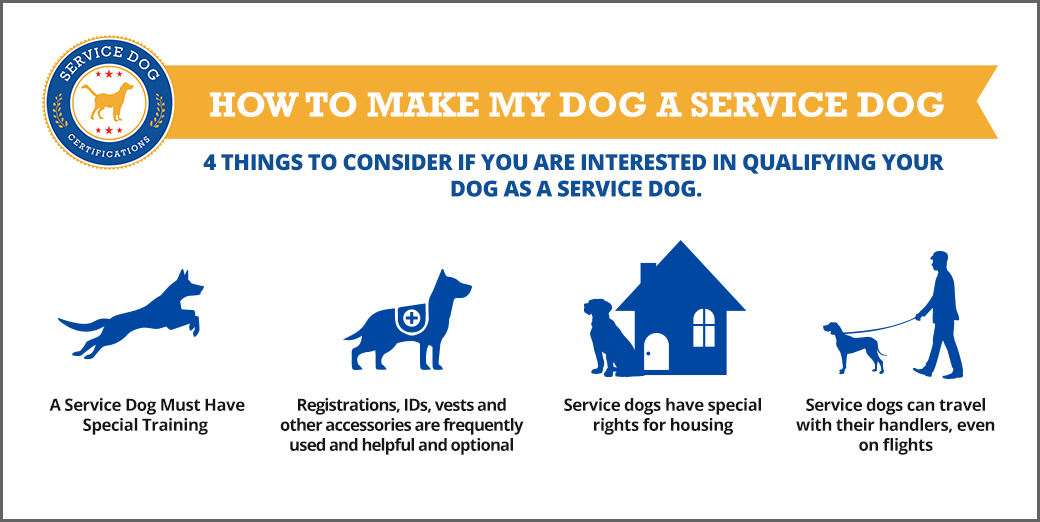 Getting Out of the Yard
Once your service dog in training has mastered the previous exercises, start shrinking the size of the rope or leash until you're at about six feet of lead. Mix things up by walking faster, slower, or in a different direction. If your service dog stays by your side, you can move on to a sidewalk. If not, continue training until your service dog has it down.
Once on a public sidewalk, there will be more distractions, so have extra treats on hand. Continue training the way you did in your yard, saying, "Let's go," and tugging on the lead if your dog gets distracted and starts pulling. When they return to your side, reward them with a big treat for ignoring an extra-interesting distraction, like a cat, a squirrel, or a car to chase.
What if my dog keeps trying to trip me?
If your dog keeps getting underfoot, stomp or shuffle your feet, bringing them to the dog's attention.
Remember, if you're happy and upbeat during training, chances are your service dog in training will be too.

ServiceDogCertifications.com
Pay Attention to Your Service Dog's Ability
Some dogs may figure out that simply pulling away and then coming back to you is an easy way to get a treat. Sneaky dog! If you feel your dog is playing you for treats, stop giving a treat when the dog returns, and instead, give one for staying by your side for a longer period of time without interruption.
As with any training, leash training a new service dog takes time and patience. If you're unable to get your dog to follow or you don't have the proper space and time to conduct the service dog training yourself, don't be afraid to reach out to a friend with service dog training experience or even a professional. As your fully-trained service dog will be able to follow you into any public area – even places where usually no dogs are allowed –, leash training is an important factor in getting your service dog to pass the required public access test.
Latest Posts
What Are the Best Types of Service Dogs for Seniors?
A senior with her service dog enjoying the outdoors.

How to Get a Service Dog for Anxiety
Research into the human-dog bond confirms how humans benefit from the relationship. Service dogs used to help with mental health conditions are also known as psychiatric service dogs (PSD) and utilize this human-dog bond. PSDs help fulfill tasks that individuals with severe anxiety would generally feel too overwhelmed to perform or can provide actions to […]

The Benefits of a Service Dog for Seniors
Service dogs have been used since the mid-1940s for those with visual impairments. Today, the service dog has expanded into an even more significant role, especially for seniors, so much so that most senior living communities openly welcome these furry members. Let's explore the benefits of a service dog for seniors. What is a Service […]