Home Page › Blog › What is a Psychiatric Service Dog (PSD)?
What is a Psychiatric Service Dog (PSD)?
A person with a mental illness may struggle to accomplish daily life activities. When in need, some individuals depend on family, friends, or caretakers, while others rely on Psychiatric Service Dog. A Psychiatric Service Dog is a support for a person with a mental illness to help complete their everyday tasks.
Definition of a Psychiatric Service Dog
A Psychiatric Service Dog falls under the category of Service Animals. These are dogs or miniature horses that assist a person with a disability with tasks that directly relate to their disorder. Per Americans with Disabilities Act (ADA), a disability is a physical, medical, or mental disorder that impairs their daily activities. Originally, Service Dogs were only used for individuals with physical disabilities. As the number of other disorders grew, The ADA service dog laws conformed to the increasing numbers of people in need and began to allow Service Dogs for individuals with mental disabilities, and calling them Psychiatric Service Dogs.
Mental Illnesses a Psychiatric Service Dog can help with
To qualify for a Psychiatric Service Dog, a person must have a diagnosis of mental illness from a medical professional. Several mental illnesses qualify as a psychiatric diagnosis. Among those are:
Obsessive-Compulsive Disorder
Eating Disorders
Schizophrenia
Agoraphobia 
If you are interested in registering your trained psychiatric service dog, the below image is a helpful guide for service dog registration. We recommend saving this or sending it a loved one who may benefit from having a service dog.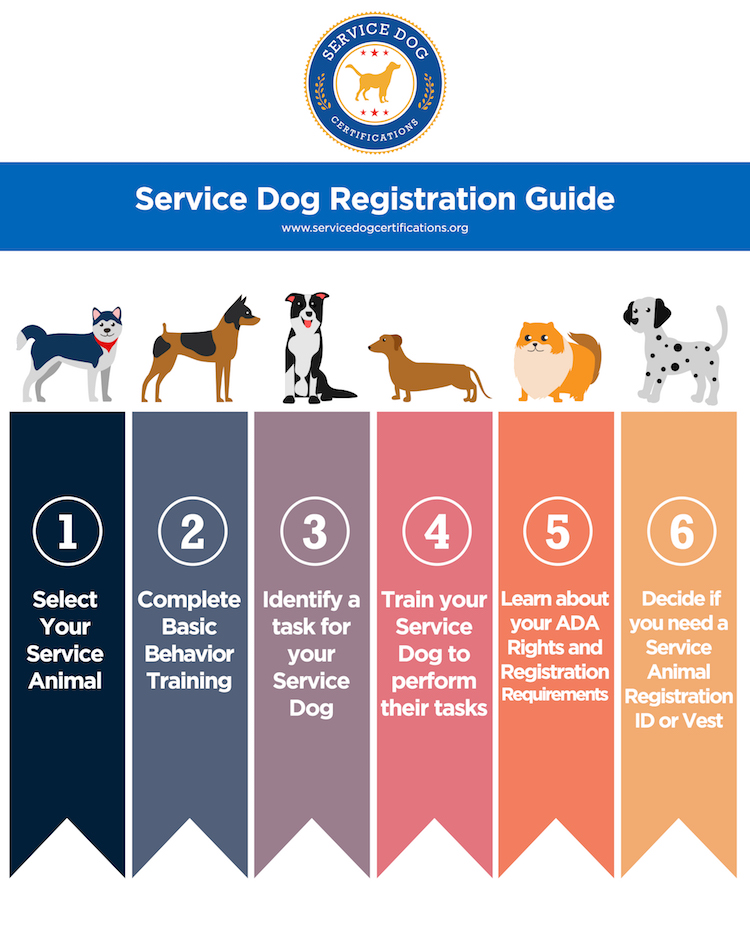 The best breeds for Psychiatric Service Dogs
To find a Psychiatric Service Dog that fits the individual's situation, they must look at several factors, such as breed, temperament, and trainability. Dog breeds that excel in this type of work and tend to enjoy service work are:
Labrador Retrievers
German Shepherds
Poodles
Golden Retrievers
These breeds share similar traits, such as high levels of trainability, desire to please, intense focus, and generally good temperament. These characteristics go a long way in training and allow them not only to learn the tasks needed by their handler but to form a strong bond. It's important to choose a dog that enjoys working on specific tasks—if a dog struggles to learn new skills, or appears to be in distress while training, they may not be a good fit for service work.
Dogs with desirable working traits enjoy their responsibilities as Psychiatric Service Dog and will serve their handlers best.
Tasks a Psychiatric Service Dog provides
Once a handler identifies their ideal Psychiatric Service Dog, they need to think about what the dog can do to assist them. Each disability has different factors that impact an individual's daily life. The goal with a PSD is to discover what they can do to help ease or even eliminate the handler's undesirable symptoms. What a Psychiatric Service Dog needs to do depends on their handler's demands, which again depends on their mental illness. Here are some examples based on different mental disorders:
Fetching medication for a person with depression who is unable to leave their bed
Accompanying a person who has agoraphobia to go outside
Detecting a panic attack and providing physical comfort until it subsides
Fetching a phone for a person with anxiety so they can reach out for help
Providing physical stimulation for a person with obsessive-compulsive disorder to distract them from their rituals
Waking up a person with post-traumatic stress disorder who is experiencing nightmares or night terrors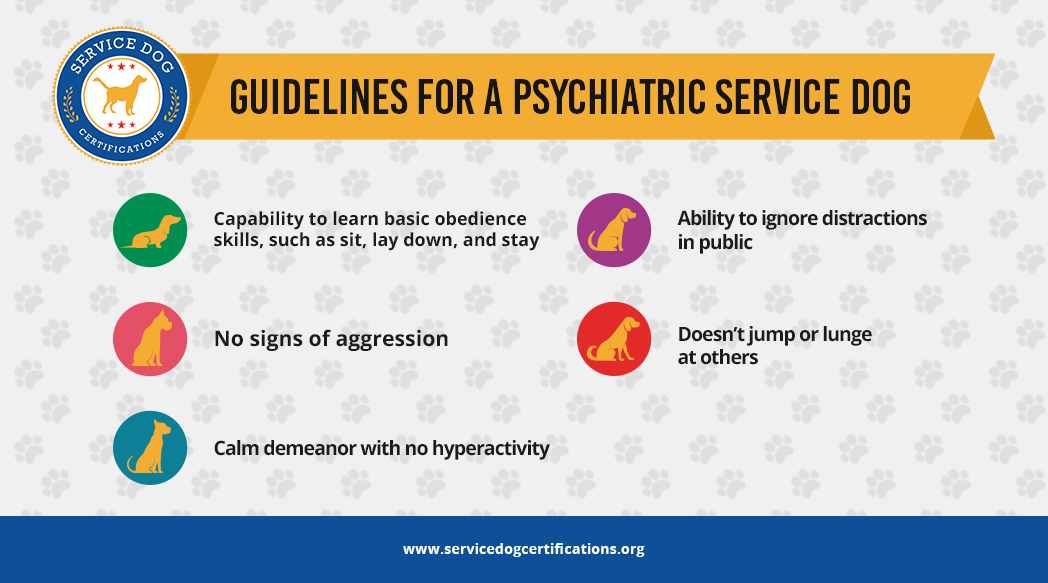 A Psychiatric Service Dog to fit
Thousands of individuals nationwide benefit from the assistance of a PSD. As everyone's needs are different, each Service Dog is trained to complete distinct tasks that benefit their handlers. Continuous, honest communication with the therapist can help to determine what symptoms need extra support. And that insight will dictate what their Psychiatric Service Dog can do to help live their lives independently, safely, and as fulfilling as possible.

Latest Posts
How ESAs Help Seniors in Assisted Care Living Facilities
There's something about a wagging tail and a furry face that lights up the atmosphere and brings people together. Dogs and cats can brighten up a room. But, perhaps more importantly, they can heal. This healing factor is why emotional support animals can help seniors in assisted living facilities. What is an Emotional Support Animal? […]

Can I Take a Service Dog to College?
Service dogs are not just for the visually or hearing impaired individual. Service dogs have lent a helping paw to individuals with a broader range of physical and psychological conditions. But what if you are a student and need a service dog? Will colleges allow dogs on campus and into the classroom? Read on for […]

Service Dogs for Mobility Issues
For people with mobility issues, a service dog can provide life-changing help. This assistance animal will help with daily tasks, like retrieving items, helping with balance, or opening doors in public places that would otherwise be of great difficulty for people with mobility issues. A service dog that is specialized in mobility issues suffered by […]