Home Page › Blog › How to Make Your ESA a Service Dog
How to Make Your ESA a Service Dog
If you're lucky enough to have an obedient, social, and intelligent emotional support animal (ESA) with a calm temperament, you may have a potentially ideal service dog. Training your ESA to become a service dog isn't an easy endeavor—it takes work and dedication to make an ESA into a service dog, but it can flourish into a rewarding journey in the long run. This article will discuss important points to consider before starting your emotional support dog's transition to becoming a certified service dog.
Steps to Making your ESA a Service Dog
Determine if you need a psychiatric service dog or a mobility service dog.
Make sure that your dog is the right size and or breed for your disability. If your disability is psychological, your dogs size/breed may be smaller than if you required support with mobility.
Train your dog to perform a task to aid in your disability. The task doesn't have to be complicated or difficult, it just has to be right for you.
Travel with your service dog out in the world! If you'd like, order a Service Dog ID card for your personal convenience and register online. Register your service dog here.

Does Your ESA Have the Qualities of a Service Dog?
Before you begin to train your ESA, you'll need to evaluate their qualities from an objective point of view. Here are a few questions to ask yourself:
1. Is your ESA the right breed?
Depending on what tasks you'll need your potential service dog to do, the breed and size matter. Determine whether your ESA is the right fit to perform the tasks you need. For example, a bulk of your requirements might have to do with bracing and mobility, which calls for a larger dog breed. If your ESA is a chihuahua, it will not fulfill the job's requirements, no matter how obedient or intelligent your small dog is. However, if your needs are psychological a small breed might be the perfect fit.
2. Does your ESA learn quickly?
Though an ESA might have the capacity to learn basic commands, a service dog must go above and beyond the typical "sit" and "stay" commands. Because service dogs in training spend so much of their time learning, only exceptionally intelligent, enthusiastic, and observant dogs can maintain the pace needed to become a service dog.
Dogs that are bright and eager to please typically are ideal to become service dogs, as they have the natural desire to pay attention for hours at a time. Service dogs spend the rest of their lives following commands for long periods of time. Asking a dog who doesn't enjoy performing tasks day in and day out isn't healthy for the ESA or the handler.
An intelligent ESA that naturally enjoys performing tasks will most likely lead to a happy service dog and handler.
3. Is your ESA social with other people and animals?
Emotional support animals aren't typically allowed in areas that prohibit pets. Service dogs, however, can follow their handlers wherever the public can go. This means that service dogs are exposed to many strangers and animals, and safety becomes a concern. An ESA that's naturally friendly and tolerant of strangers and animals makes an ideal candidate for a service dog.
4. Does your ESA have a calm temperament?
Service dogs have to maintain a calm demeanor, even when their surroundings are loud or chaotic. For most dogs, remaining steady and focused in new or disruptive surroundings is a challenge. They cannot be distracted by others and should not bark (unless barking is part of a task). But if your ESA is naturally calm and doesn't become agitated, you might have an emotional support dog with the potential to become a service dog.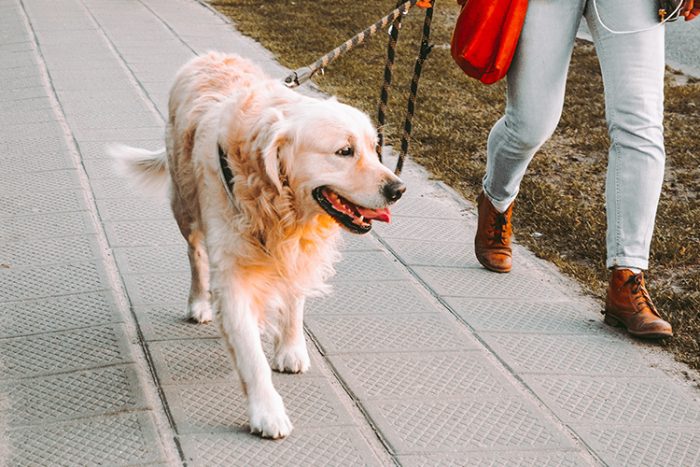 Training a Service Dog
Once you have confirmed that your emotional support dog has the qualities needed for a service dog, and you've determined what tasks you need your service dog to perform, it's time to begin the training. Training involves two parts:
Teaching the Public Access Test requirements, which determines if dogs can remain in public areas without disrupting their environment.
Training for specific tasks geared at addressing the disabilities of the handler.
Turning Your ESA Into Your Service Dog
You have a number of options when training your ESA. The easiest but most costly option is to hire a professional. Your dog may be away in training for a while, but you'll have a solid, obedient service dog once the training is complete.
Alternatively, you can choose to train your ESA yourself entirely. This option is the most cost-effective—and most involved—choice. And while it will take up a chunk of your time and patience, the bond between your dog and you, as well as his responsiveness towards your commands, will be stronger.
You can also choose to hire a trainer for parts of the training—like the Public Access Test—and train your dog yourself for the other, more individualized portions.
Whichever path you select, keep a training log to document your dog's progress. A training log can help hone in on your dog's strengths and weaknesses and provide proof of training should the needs or documentation arise.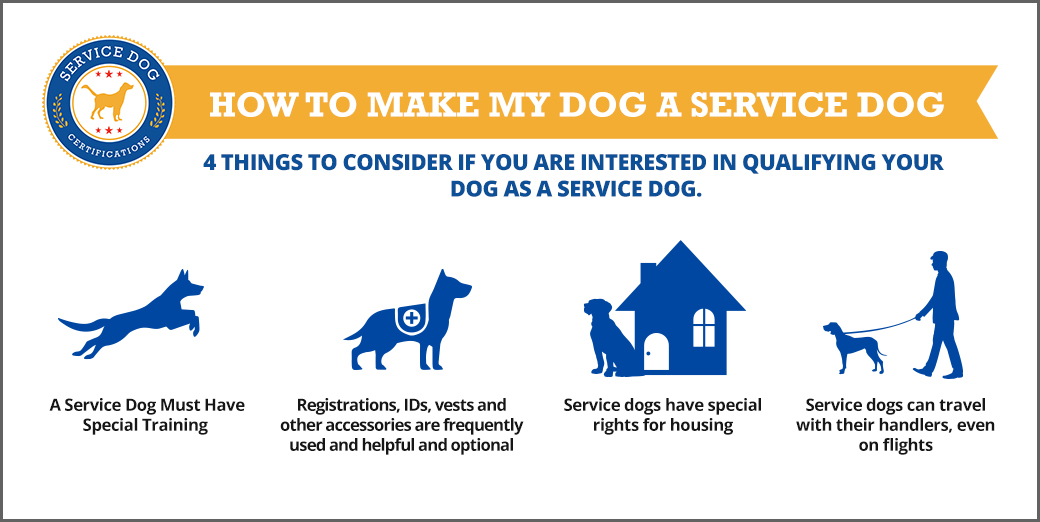 Know Your Service Dog Laws
Once your ESA has mastered all the training needed and has become a certified service dog, they can escort you into public areas like parks, malls, areas where pets and ESAs are not allowed, and on all flights. However, they must apply to the following rules:
A service dog must be under the command of their handler at all times.
A service dog cannot display signs of aggression.
A service dog cannot disturb the normal functioning of the places they are in.
And be aware, an establishment may ask the handler to remove the service dog from the area if the dog is out of control. Each state may also have additional service dog laws, so it's safest to inquire about the laws for the state you're in.
Turning an ESA into a service dog is like having the best of both worlds. A person can have their closest healing companion physically assist them with their disability. Training an ESA to become a service dog may take time and work, but the results are worthwhile!
Latest Posts
How ESAs Help Seniors in Assisted Care Living Facilities
There's something about a wagging tail and a furry face that lights up the atmosphere and brings people together. Dogs and cats can brighten up a room. But, perhaps more importantly, they can heal. This healing factor is why emotional support animals can help seniors in assisted living facilities. What is an Emotional Support Animal? […]

Can I Take a Service Dog to College?
Service dogs are not just for the visually or hearing impaired individual. Service dogs have lent a helping paw to individuals with a broader range of physical and psychological conditions. But what if you are a student and need a service dog? Will colleges allow dogs on campus and into the classroom? Read on for […]

Service Dogs for Mobility Issues
For people with mobility issues, a service dog can provide life-changing help. This assistance animal will help with daily tasks, like retrieving items, helping with balance, or opening doors in public places that would otherwise be of great difficulty for people with mobility issues. A service dog that is specialized in mobility issues suffered by […]