Home Page › Blog › How to Register Your Dog as a Psychiatric Service Dog
How to Register Your Dog as a Psychiatric Service Dog
Do you have psychological or emotional disorder that make it difficult to live a normal life? If so, you may qualify for a Psychiatric Service Dog. To learn how to register your dog as a Psychiatric Service Dog, keep reading.
A Psychiatric Service Dog is a type of Service Dog trained to do specific tasks for the individual with a mental or emotional disability. This can include waking up their handler, alerting the handler that a panic attack is coming, and calming their handler when they are experiencing distress.
Based on your personal condition and your disability, you may be able to train and use your current pet as your Psychiatric Service Dog.
In this article, we will review the tasks and training required for your Psychiatric Service Dog, as well as the registration process. Below is a summary of how to register your Psychiatric Service Dog:
How to Register your Psychiatric Service Dog
Registering Your Psychiatric Service Dog
Registering your psychiatric service dog can provide a layer of privacy and protection when out in public. The identification card and vest signal to others that your animal is a medical device and should be by your side at all times.
Although it is not a legal requirement, registering your Service Dog can eliminate any confusion you may have in public places.
In addition, although not legally required, you may want to have a letter from your doctor stating your disability and a note from your veterinarian stating your dog is in good health. With this documentation handy, you can feel more confident and calm.
Another option available to you is to register your Psychiatric Service Dog online. You can do this by completing a form, uploading your dog's picture, and paying a fee. Once your dog is registered, you will be provided with identification in the form of a vest for your dog, a certificate, and an ID card.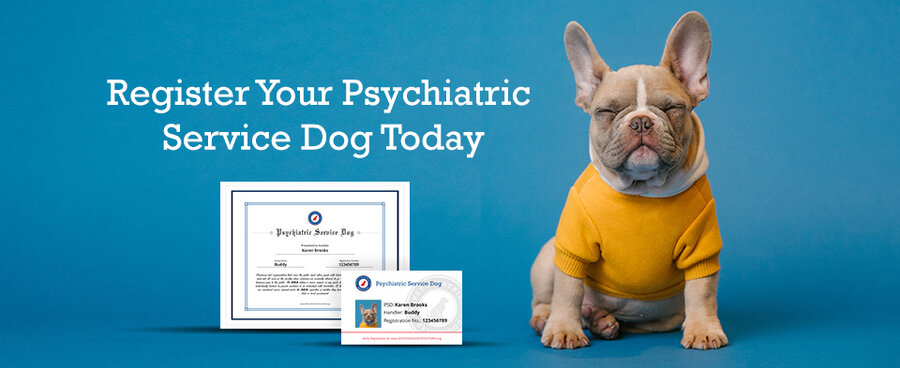 Get a Psychiatric Service Dog and Live Your Life
If you have a mental or emotional disability and believe a Psychiatric Service Dog may help you, start the process today. Whether you purchase a dog that has already been trained or you have trained your dog yourself, having a canine supporter can help you live a fulfilling life again.

Latest Posts
How ESAs Help Seniors in Assisted Care Living Facilities
There's something about a wagging tail and a furry face that lights up the atmosphere and brings people together. Dogs and cats can brighten up a room. But, perhaps more importantly, they can heal. This healing factor is why emotional support animals can help seniors in assisted living facilities. What is an Emotional Support Animal? […]

Can I Take a Service Dog to College?
Service dogs are not just for the visually or hearing impaired individual. Service dogs have lent a helping paw to individuals with a broader range of physical and psychological conditions. But what if you are a student and need a service dog? Will colleges allow dogs on campus and into the classroom? Read on for […]

Service Dogs for Mobility Issues
For people with mobility issues, a service dog can provide life-changing help. This assistance animal will help with daily tasks, like retrieving items, helping with balance, or opening doors in public places that would otherwise be of great difficulty for people with mobility issues. A service dog that is specialized in mobility issues suffered by […]