Home Page › Blog › Is an Emotional Support Animal the Same as a Service Dog?
Is an Emotional Support Animal the Same as a Service Dog?
The terms "service dog" and "emotional support animal" are often incorrectly used interchangeably. While they fall under the same umbrella of assistance animals, these two types of dogs provide different services to their handlers. In order to find the most fitting, beneficial support, it's important for handlers to know the difference between the two types of dogs.
In short, a service dog is a trained dog to help an individual with specific tasks and often accompanies their owner at all times. An emotional support animal (ESA) provides comfort in times of distress and does not need any specific training. While ESA's do need an official ESA letter issued by a licensed medical professional, service dogs do not need any documentation. However, some service dog owners find it easier to communicate the dog's purpose when they obtain a registration or id card.
Show everyone that the rights of your service dog should be respected. Get your service dog registered below.

What is a Service Dog?
According to the Americans with Disabilities Act (ADA), a service dog is a dog that performs tasks specifically related to a person's disability. Examples of disabilities are:
Visual impairment. The service dog would be trained to guide their handler.
Physical disability. A service dog could help retrieve items for a person in a wheelchair.
Chronic health problems. The service dog could alert its handler with diabetes when the blood sugar is low.
These tasks relate directly to the individual's disability and help improve their quality of life.
What is an Emotional Support Animal?
An emotional support animal (ESA) provides support to an individual solely through companionship. Specialized training is not required.
Anyone suffering from one or more of the mental illnesses listed below may qualify for an ESA:
Attention Deficit Disorder (ADD)
Learning Disorders
Autism
General Anxiety Disorder
Gender Identity
Bipolar
Cognitive disorders
Depression
Severe anxiety
Post Traumatic Stress Disorder (PTSD)
The emotional support animal doesn't need to meet any specific requirements regarding training or registration and doesn't have to be a certain type of animal. The owner of an ESA benefits from having the animal nearby, rather than having them complete certain tasks.
Qualifications for a Service Dog
A person qualifies for a service dog if they have an official diagnosis of a disability from a medical professional. While the ADA doesn't require a prescription or documentation to obtain a service dog, there are certain requirements that the dog must meet in order to qualify.
The dog must be under control at all times.
A service dog cannot display any aggressive behaviors,
The service dog must perform one or more tasks that directly related to their handler's disability.
If the dog is highly trained and can meet these standards, the handler will be allowed to bring them to most public places.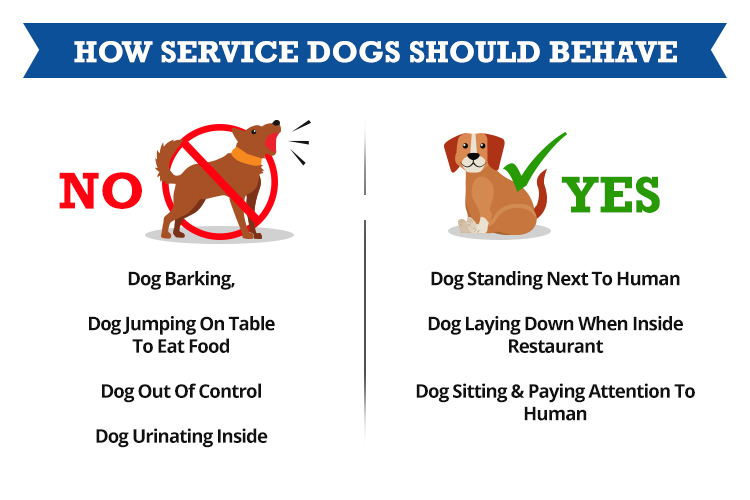 Qualifications for an Emotional Support Animal
Similar to service dogs, there is no official registry for emotional support animals. However, there are more limitations to where an ESA can be brought. Under the current ADA and Fair Housing law ESAs are allowed only in:
Housing with no pets policies 
College dorms
Places you can adopt an ESA, such as animal shelters
In order to legally own an emotional support animal, the handler is required to hold an ESA letter issued from a licensed medical professional. The therapist must agree that the handler's pet is part of the treatment for their mental or emotional disability.
Which One is Right For Me?
Whether a person chooses a service dog or emotional support animal depends on their individual needs. A person who is diagnosed with a debilitating disability may prefer a service dog, as they'll be able to help them with their day to day tasks.
On the other hand, somebody with a mental illness may prefer an ESA to support them during certain anxiety-provoking situations. No matter what, the dog is there as a support for their handler in times of need.
Latest Posts
How ESAs Help Seniors in Assisted Care Living Facilities
There's something about a wagging tail and a furry face that lights up the atmosphere and brings people together. Dogs and cats can brighten up a room. But, perhaps more importantly, they can heal. This healing factor is why emotional support animals can help seniors in assisted living facilities. What is an Emotional Support Animal? […]

Can I Take a Service Dog to College?
Service dogs are not just for the visually or hearing impaired individual. Service dogs have lent a helping paw to individuals with a broader range of physical and psychological conditions. But what if you are a student and need a service dog? Will colleges allow dogs on campus and into the classroom? Read on for […]

Service Dogs for Mobility Issues
For people with mobility issues, a service dog can provide life-changing help. This assistance animal will help with daily tasks, like retrieving items, helping with balance, or opening doors in public places that would otherwise be of great difficulty for people with mobility issues. A service dog that is specialized in mobility issues suffered by […]