Home Page › Blog › PTSD Service Dog Tasks
PTSD Service Dog Tasks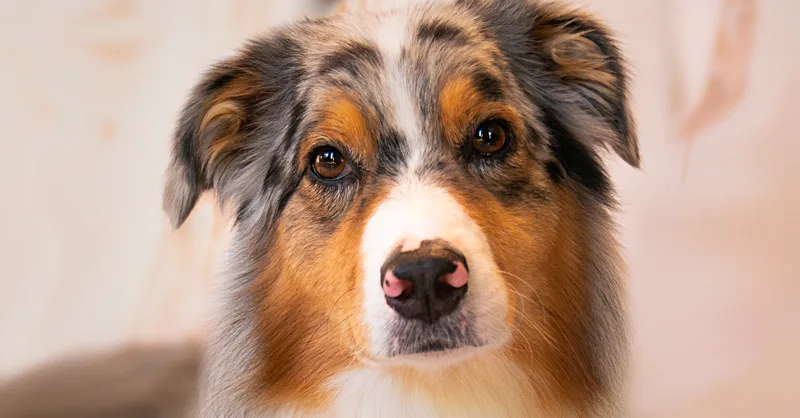 Psychological trauma occurs when a person witnesses a highly stressful event, like a car accident, school shooting, combat, sexual assault, or extreme violence. How an individual reacts after an event varies from person to person, some experiencing more extreme emotions than others. Coping and managing after a traumatic experience is difficult, and for some, the memory of a traumatic event remains fresh and can impact day-to-day activities. A PTSD service dog may offer help and relief for individuals by taking on specific tasks to help cope with the symptoms of PTSD.
What Is Post-Traumatic Stress Disorder (PTSD)
When memories of a traumatic event make daily life challenging, a person may have post-traumatic stress disorder (PTSD). According to the U.S. Department of Veterans Affairs, about 8 million adults struggle with PTSD. PTSD can happen to anyone and doesn't indicate character weakness; it shows that a person with PTSD needs some type of support to help overcome their traumatic experience.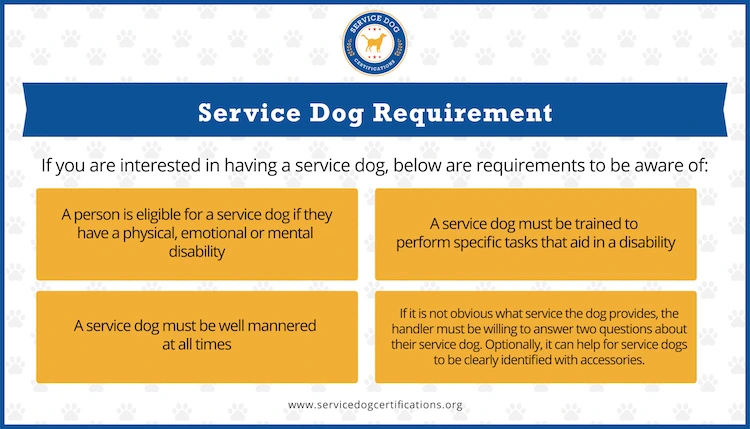 Symptoms of PTSD
Because memories of traumatic events and personal emotions are subjective, the symptoms of PTSD are different from person to person. The symptoms are often persistent, cause a significant amount of discomfort, and affect work, school, and relationships. Possible symptoms of PTSD are:
Recurrent and intrusive thoughts about the traumatic event.
Avoidance of places, people, or objects that bring to mind the event.
Changes in sleeping habits.
Irritability, mood swings, tearful episodes, or angry outbursts.
Negative thoughts, sometimes suicidal.
Dissociation or confusion.
Routinely feeling unsafe and in danger.
Feeling detached or alienated from friends and family.
Service Dogs for PTSD
One type of psychiatric service dog is a PTSD service dog. Like all service dogs, a PTSD service dog performs one or more tasks that the individual with PTSD cannot do on their own. Most people who have dogs know the feeling of security and comfort a dog can provide, and for a person with PTSD, that feeling of security can change the course of their disorder. PTSD service dogs, however, do much more than make their owners feel safe. These service dogs may help with a variety of physical interventions, depending on their owner's needs, which may include:
1. Provide Tactile Redirection
Service dogs receive training on how to sense anxiety or a change in emotions in their owners. If a person with PTSD becomes anxious or fearful, a PTSD service dog can give their owner tactile intervention. Whether it's stroking their fur or touching their nose, a PTSD service dog can redirect their owner's attention, allowing them to manage their emotions.
2. Act as a Guard
People with PTSD, especially those who experienced an assault, may experience feelings of danger, even when the environment is inherently safe. A PTSD service dog can give a person a sense of security by assuring their owner that there are no intruders into their home. A PTSD service dog can also alert its owner to strangers, act as a guard, and give its owner a much-needed sense of peace. PTSD service dogs may also receive training to enter rooms before their owner and then return to their owner to let them know the space is safe.
3. Guide their Owner
When a person experiences a panic attack or flashback, they can become disoriented or dissociate from their environment. When this occurs, they can get lost, unable to find their way in their state of mind. A PTSD service dog can guide their owner home or get assistance, all the while making sure that their owner is safe.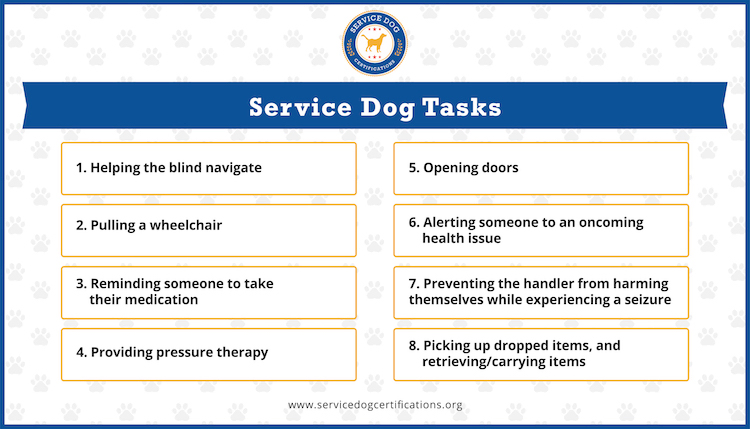 PTSD Service Dogs are Not Pets or Emotional Support Animals
PTSD is considered an invisible illness. PTSD cannot be spotted right away; therefore, it might be hard for the public to understand why a PTSD service dog is necessary. Nevertheless, a PTSD service dog is a legitimate service dog and is not a pet, emotional support animal (ESA), or therapy dog. A PTSD service dog can accompany its owner anywhere the rest of the public is allowed and is protected under federal laws. PTSD can have a physical and emotional toll on someone, but a PTSD service dog can help to mitigate the negative symptoms of PTSD, enabling an individual to overcome trauma and feel a sense of security.
Let everyone know your PTSD service dog is an indispensable part of your life. Get your PTSD service dog ID by registering below.
Latest Posts
How ESAs Help Seniors in Assisted Care Living Facilities
There's something about a wagging tail and a furry face that lights up the atmosphere and brings people together. Dogs and cats can brighten up a room. But, perhaps more importantly, they can heal. This healing factor is why emotional support animals can help seniors in assisted living facilities. What is an Emotional Support Animal? […]

Can I Take a Service Dog to College?
Service dogs are not just for the visually or hearing impaired individual. Service dogs have lent a helping paw to individuals with a broader range of physical and psychological conditions. But what if you are a student and need a service dog? Will colleges allow dogs on campus and into the classroom? Read on for […]

Service Dogs for Mobility Issues
For people with mobility issues, a service dog can provide life-changing help. This assistance animal will help with daily tasks, like retrieving items, helping with balance, or opening doors in public places that would otherwise be of great difficulty for people with mobility issues. A service dog that is specialized in mobility issues suffered by […]