Home Page › Blog › Can a Service Dog also be a Therapy Dog
Can a Service Dog also be a Therapy Dog
Although they both offer vital services, a service dog and a therapy dog are not the same. These two types of dogs are not afforded the same federal rights to public access under the Americans with Disabilities Act (ADA). They provide very different services for people. On rare occasions, however, a Service Dog can also be a Therapy Dog. But to understand why this is not a common situation, we first need to clarify the differences between a service dog and a therapy dog.
What is a Service Dog?
The ADA defines service dogs as dogs trained to work or complete tasks for people with a disability. The work that a service dog performs must directly relate to their owner's disability. In the case of service dogs, their presence is protected under federal law.
As examples, service dogs may function as guides for people who are visually impaired or pull a wheelchair for someone with mobility problems. Some service dogs obtain life-saving medication when their diabetic owners are incapacitated. The tasks that service dogs fulfill are activities that a person with a disability would not be able to do independently, thus making a service dog an essential part of their daily life.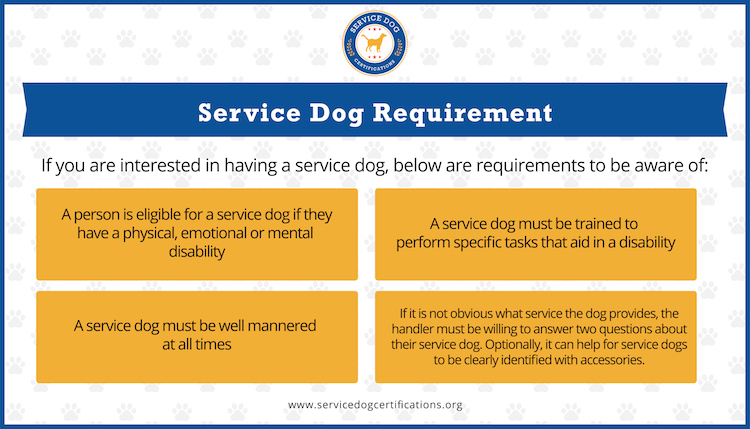 What is a Therapy Dog?
A therapy dog accompanies its owners to hospitals, schools, or nursing facilities to provide the general service of providing comfort, affection, and a sense of well-being. Although a therapy dog has an owner, they help other people by spending time interacting with them. Many hospitals now have therapy dogs to help ease the pain and anxiety of being in a hospital. These therapy dogs spend time with various patients, serving to make their time there a little brighter.
Research shows that the presence of animals can reduce stress and change physiological responses, like lower blood pressure and heart rate. Therapy dogs not only bring affection, but they may improve the physical well-being of patients, making them more likely to recover from illness.
A Service Dog and Therapy Dog
Because service dogs provide an essential service to their owner, they're almost always on the job. Service dogs receive training to be alert to the needs of their owner and to perform particular tasks. This extreme focus is why it is generally frowned upon to pet or engage with a service dog that doesn't belong to you. Interacting with a service dog can distract them from doing their jobs well, which might endanger their owner.
Therapy dogs, however, are continually interacting when they do their jobs. They approach various people in hospitals and schools and allow these people to pet and cuddle with them. This interaction is the opposite of the strict concentration that a service dog requires.
Despite the significant differences between a service dog and a therapy dog, a dog can technically be both. However, it takes a very talented—and extremely patient—dog to fulfill both roles.

ServiceDogCertifications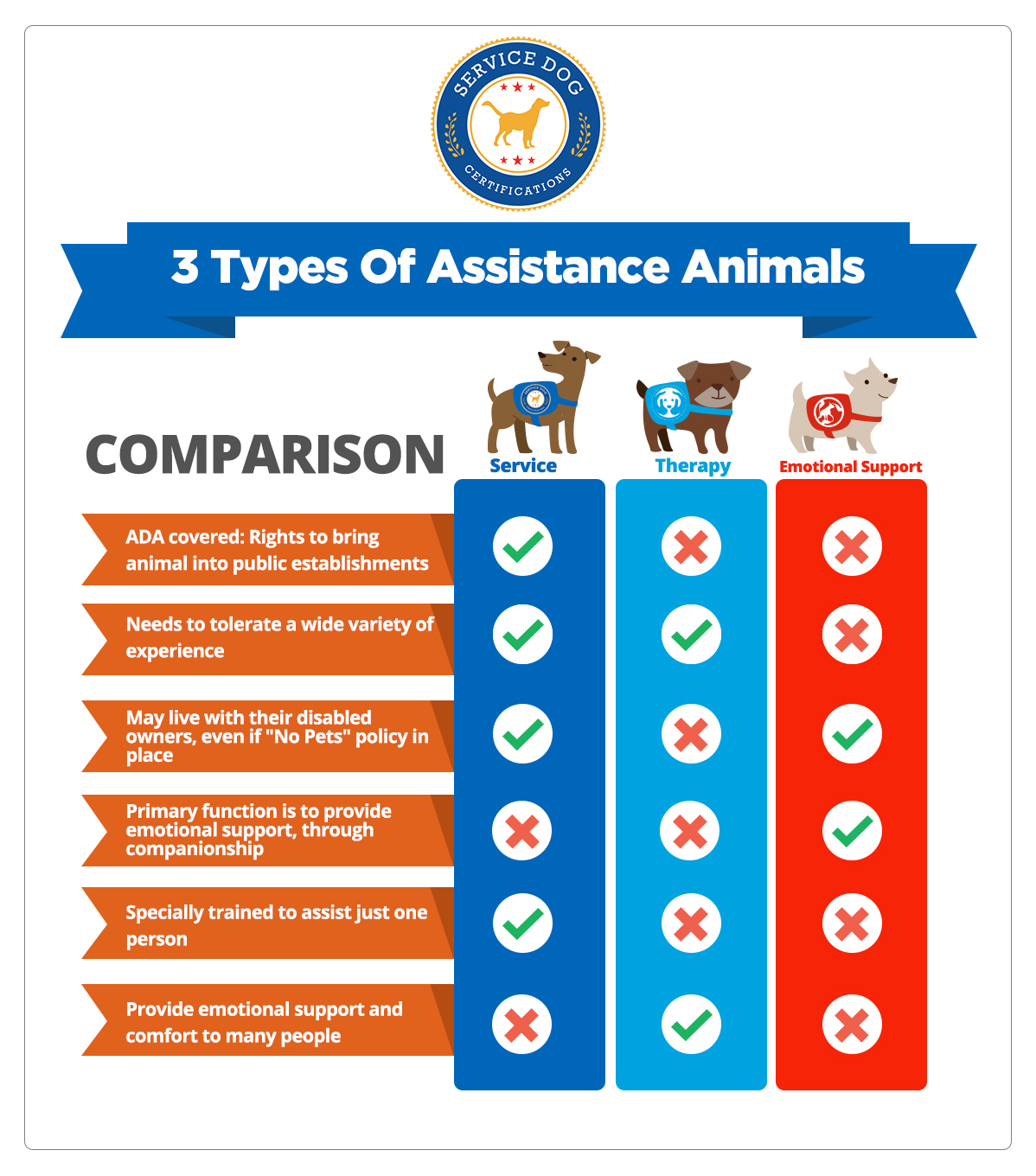 Serving as Both
In rare instances, a highly intelligent and well-trained service dog can function as a therapy dog. A service dog trained to assist their owner with mobility issues, for example, can work as a therapy dog when the owner is sitting. When the owner is at rest and doesn't require help, the service dog can attend to other people as a therapy dog.
Because being both a service dog and a therapy dog requires a particular awareness of the needed roles, a dog performing both functions needs to gauge situations appropriately. This switch in behavior demands a level of intelligence that most dogs don't possess.
An Issue of Safety
Working as both a service dog and a therapy dog also creates some safety concerns that must be addressed. The leashes, harnesses, and other equipment that help a service dog fulfill their task might not be conducive to the therapy dog environment. Another safety consideration is the needs of the service dog owner. Service dogs should always be capable of fulfilling their duty as service dogs. The role of therapy must come secondary.

In Summary
Can a service dog function as a therapy dog? Yes, but with considerations. The environment should be safe for the service dog owner, the dog, and the people around them. Service dogs must be aware and trained to fulfill both roles, and the safety of the service dog owner should never be compromised. It takes an exceptional dog to fulfill both roles, and you'd be fortunate to have one!
Latest Posts
How ESAs Help Seniors in Assisted Care Living Facilities
There's something about a wagging tail and a furry face that lights up the atmosphere and brings people together. Dogs and cats can brighten up a room. But, perhaps more importantly, they can heal. This healing factor is why emotional support animals can help seniors in assisted living facilities. What is an Emotional Support Animal? […]

Can I Take a Service Dog to College?
Service dogs are not just for the visually or hearing impaired individual. Service dogs have lent a helping paw to individuals with a broader range of physical and psychological conditions. But what if you are a student and need a service dog? Will colleges allow dogs on campus and into the classroom? Read on for […]

Service Dogs for Mobility Issues
For people with mobility issues, a service dog can provide life-changing help. This assistance animal will help with daily tasks, like retrieving items, helping with balance, or opening doors in public places that would otherwise be of great difficulty for people with mobility issues. A service dog that is specialized in mobility issues suffered by […]